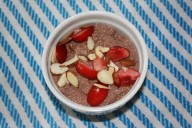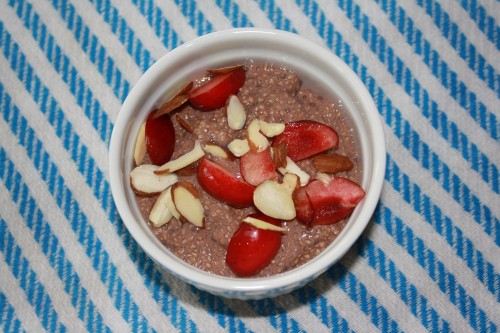 Sweet treat meets recovery snack in this simple recipe!
Chocolate-Cherry Chia Pudding
Serves: 4
3 cups low fat chocolate milk
3⁄4 cup white chia seeds
3⁄4 teaspoon almond extract
1⁄2 cup chopped cherries
1⁄4 cup sliced almonds
Equipment: 4, 4-ounce ramekins (optional)
In a large bowl, combine chocolate milk, chia seeds and almond extract; whisk well. Transfer mixture to 4 ramekins (if using) or a large bowl. Transfer to the refrigerator. After 2 hours gently mix, return to refrigerator and allow set for at least 2 more hours (or overnight). Serve topped with cherries and sliced almonds.
Nutrition Info Per Serving Calories: 268; Total Fat: 12 grams; Saturated Fat: 1 gram; Total Carbohydrate: 34 grams Sugars: 21 grams; Protein: 12 grams; Sodium: 114 milligrams; Cholesterol: 6 milligrams Fiber: 11 grams