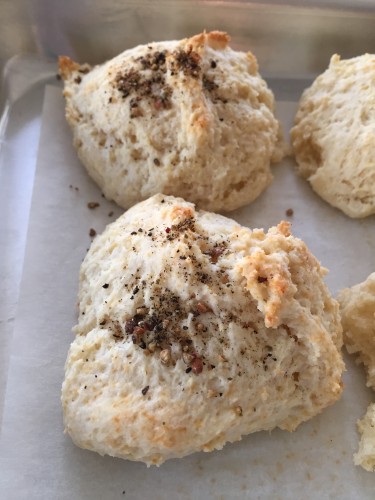 I always have a small amount of buttermilk lying around after making a batch of pancakes. These biscuits come together in minutes (no rolling out sticky dough!) and are perfect for breakfast sandwiches or as side to soup or chili. They only have 100 calories each!

Makes 8 biscuits
1 cup all-purpose flour
1 teaspoon baking powder
¼ teaspoon baking soda
½ teaspoon kosher salt
3 tablespoons cold unsalted butter, diced
1/2 cup low fat buttermilk
1 tablespoon cracked black pepper
Preheat oven to at 400-degrees F. Combine flour, baking powder, baking soda, salt and butter in a food processor and pulse until combined. With the machine running, slowly pour in buttermilk and mix until dough comes together (don't over mix!) Spoon heaping tablespoons of dough onto a parchment lined baking sheet, sprinkle with cracked pepper and bake for 10-12 minutes, until golden.
Nutrition Facts (1 biscuit): Calories: 101; Total fat: 5 grams; Saturated Fat: 3 grams; Cholesterol: 12 mg; Sodium: 185mg; Carbohydrate: 13 grams; Fiber: 0 grams; Protein: 2 grams