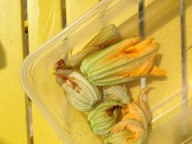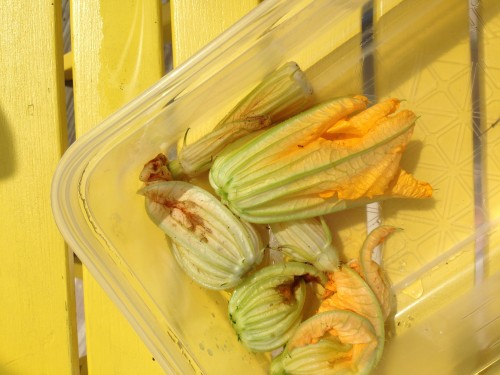 It always amazes me how delicious these tender zucchini flowers are. Instead of frying them (which is magical) I tried baking instead …. I was not disappointed.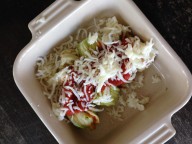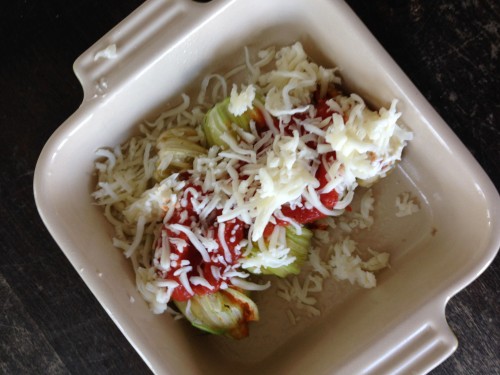 Baked Stuffed Squash Blossoms
Serves: 4
1/2 cup part-skim ricotta cheese
1 tablespoon chopped fresh basil
3 tablespoons finely chopped roasted red pepper
3/4 cup shredded part-skim mozzarella cheese, divided
kosher salt
16 squash blossoms, cleaned and dried
1/2 cup marinara sauce
Preheat oven to 350-degrees F. Spray a 8×8 square baking dish with nonstick spray. Combine ricotta, basil, roasted pepper and 1/4 cup of mozzarella in a small bowl. Season with a pinch of salt and mix gently to combine.
Transfer the cheese mixture to a resealable plastic bag and cut off one of the corners so that the filling can be squeezed out. Gently pull away the leaves of each blossom and squeeze in some filling. Close the petals and gently twist at the top to seal; place in a prepared baking dish and repeat with remaining flowers. Top with marinara sauce and remaining cheese. Bake for 10 to 15 minutes or until cheese is melted and bubbly.
Calories: 129; Total Fat: 7 grams; Saturated Fat: 3 grams; Total Carbohydrate: 8 grams; Protein: 8 grams; Sodium: 357 milligrams; Cholesterol: 19 milligrams
Fiber: 2 grams