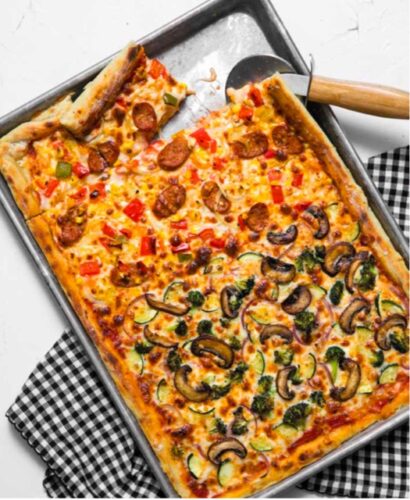 Needless to say, 2020 was not my favorite year on record, but I am truly honored to have so many supportive and loyal recipe lovers buying cookbooks and sharing recipes from this blog. Here are the 10 most popular recipes from 2020 as picked by you!
10) Pumpkin Chocolate Chip Muffins
An oldie but goodie – these muffins will always be one of my faves – and my kids are obsessed.
9) Greek Turkey Meatballs
Turkey meatballs can be boring – just bring some Greek flavors to the party!
8) Instant Pot Maple Dijon Salmon with Sweet Potatoes
I was so excited to see this recipe work so well – being able to make a salmon dinner using frozen salmon in minutes is a weeknight game changer. For more Instant Pot creations, check out the Healthy Instant Pot Cookbook.
7) Sheet Pan Pizza
It's pizza – need I say more? Healthy One Pan Dinners to the rescue.
6) Air Fryer Avocado Egg Rolls
I am often asked if this was a copy cat recipe from a restaurant, but I didn't even know there was a similar recipe out there! Just loved the combo of flavors and eggs rolls in the air fryer are the best! This is one of my faves from the The Healthy Vegan Air Fryer Cookbook.
5) Higher Protein Greek Yogurt Bagels – Regular + Gluten Free
Such a fun baking hack – my girls love this recipe for weekend brunch.
4) Bang Bang Shrimp
So much flavor packed into these tiny shrimp! This is one of my kids favorites. Make the sure the oil is the proper temperature – it's the healthiest way to fry!
3) Air Fryer Prosciutto Wrapped Asparagus
A fan favorite from the Healthy Air Fryer Cookbook – all you need is 2 ingredients.
2) Pesto Turkey Meatballs with Orzo
I have been making this recipe a lot in virtual cooking classes – a cast iron skillet really is a one pan wonder.
Air Fryer Zeppole with Cannoli Dip
Drum Roll Please ….. Another air fryer fave – the most search recipe on my site this year!!! The cannoli dip alone is worth making 🙂