Air Fryer Sweet Potato & Jalapeno Potato Hash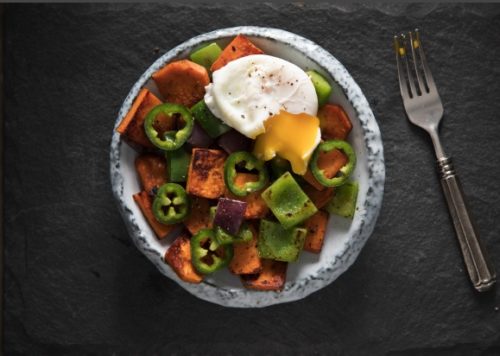 This hash will top any diner version you've tried. Made with nutrient-rich sweet potatoes and some heat from fresh jalapeno pepper.
Serves 4
2 large sweet potatoes
½ small red onion, cut into large chunks
1 green bell pepper, cut into large chunks
1 jalapeno pepper, seeded and sliced
½ tsp. kosher salt
¼ tsp. black pepper
1 tsp. olive oil
1.  Preheat the air fryer to 360°F
2.  Cook the sweet potatoes on high in the microwave until softened but not completely cooked (3-4 min); set aside to cool for 10 min.
3.    Remove skin from sweet potatoes, then cut into large chunks.
4.    In a large bowl combine sweet potatoes, onion, peppers, salt, pepper and olive oil; toss gently to combine.
5.    Spray the fryer basket with nonstick cooking spray, then pour mixture into the basket and cook for 8 minutes.
6.   Pause the machine, shake the basket and cook for 8 minutes more.
7.   Transfer to a bowl and serve topped with a cooked egg, if desired.
Nutrition per serving (does not include egg): Calories 103; Total fat 1g; Saturated fat  0g; Cholesterol 0 mg; Sodium 174mg; Carbohydrates 22g; Dietary fibers 4g; Sugars 7g; Protein 2g
Excerpted from Healthy Air Fryer Cookbook reprinted by permission of Alpha, a division of Penguin Random House LLC. Copyright © 2017 by Dana Angelo Whit