Matcha Shortbread Cookies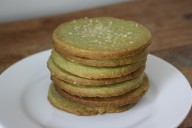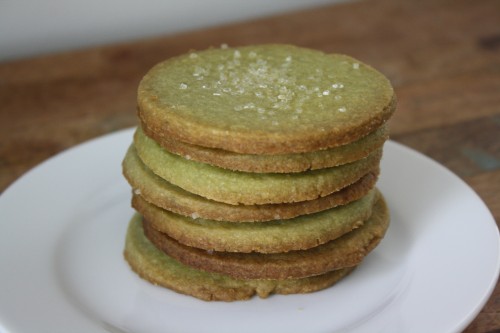 This green tea powder is loaded with antioxidants and an unmistakably delicious flavor.
Matcha Shortbread
Makes 18 cookies
1 stick unsalted butter, at room temperature
1/3 cup granulated sugar
1/2 teaspoon vanilla extract
1 cup all-purpose flour
1/8 teaspoon kosher salt
1 tablespoon matcha powder
Using a stand mixed fitted with a paddle attachment, mix butter and sugar for 2 to 3 minutes until light and fluffy. Add vanilla, flour, salt, and matcha and mix until a ball of dough forms. Wrap the dough in plastic wrap and chill in the refrigerator for 30 minutes.
Preheat oven to 350-degrees F. Roll out dough and use a cookie cutter to cut cookies into desired shape. Transfer cookies to a baking sheet lined with parchment paper and bake for 8 to 10 minutes or until edges of cookies just begin to turn golden brown.
Nutrition analysis per cookie: Calories: 83; Total Fat: 5 grams; Saturated Fat: 3 grams; Total Carbohydrate: 9 grams
Sugars: 4 grams; Protein: 1 gram; Sodium: 16 milligrams; Cholesterol: 14 milligrams
Fiber:  grams