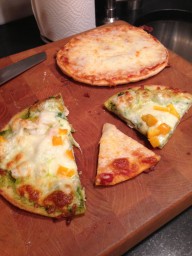 No need for take-out on a busy weeknight. This healthy, kid-friendly dinner comes together in minutes.
Pita Bread Pizza
Serves: 4
4 (6-in) piece whole-wheat pita breads
1 cup marinara sauce, pesto sauce or 2 sliced plum tomatoes
1 cup part skim mozzarella, shredded
Topping suggestions: fresh veggies, basil leaves, part skim ricotta, turkey bacon, chicken sausage, roasted shrimp, grilled chicken breast
Preheat oven to 400°F. Place pita bread on a baking sheet lined with parchment paper. Top with sauce, cheese and desired toppings. Bake for 10 to 15 minutes or until cheese is melted and bubbly.
Calories: 280; Total Fat: 10 grams; Saturated Fat: 5 grams; Total Carbohydrate: 31 grams
Sugars: 4 grams; Protein: 16 grams; Sodium: 675 milligrams; Cholesterol: 30 milligrams; Fiber: 6 grams