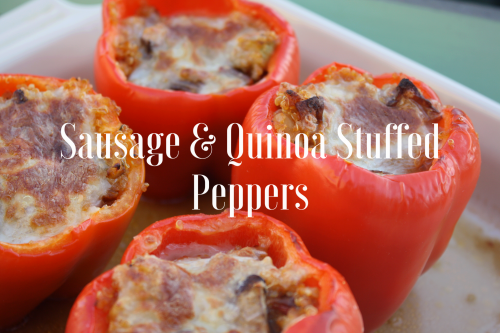 This gluten-free, high-protein, and veggie-filled recipe is perfect for everyone at your holiday table.
Sausage & Quinoa Stuffed Peppers
Makes 6 peppers
6 red bell peppers
1 tablespoon olive oil, divided
1 package Applegate Organic Fire Roasted Red Pepper Sausage, diced
2 cups diced, peeled eggplant
1 cup sliced mushrooms
¼ cup finely chopped red onion
½ teaspoon kosher salt
¼ teaspoon black pepper
1 cup cannellini beans (rinsed and drained)
1 clove garlic, minced
2 teaspoons chopped fresh thyme
½ cup low sodium chicken broth, divided
1 cup marinara sauce
1 ½ cups cooked quinoa
½ cup shredded mozzarella cheese
Preheat oven to 350-degrees F. Lay peppers on their sides and slice the bottom to create a flat surface. Cut off tops of peppers and scoop out seeds, set aside.
Heat 1 teaspoon of oil in a skillet over medium-high heat, add sausage and cook until browned, transfer to a bowl; set aside.
Heat remaining oil in same skillet. Add eggplant, mushrooms, and onion; season with salt and pepper and sauté for 5 minutes until tender.
Add beans, garlic, thyme, ¼ cup broth, marinara sauce, and cooked sausage; continue to cook for an additional 2 minutes. Turn off heat and mix quinoa. Fill each pepper with the quinoa mixture and top with shredded cheese. Transfer to a baking dish and pour remaining broth in the bottom. Cover with aluminum foil and bake for 15 minutes; remove foil and bake for 10 more minutes.
Nutrition Info for 1 stuffed pepper
Calories: 298; Total Fat: 10 g; Saturated Fat: 3 g; Total Carbohydrate: 33 g; Sodium: 659 mg; Fiber: 8 g; Protein: 19 g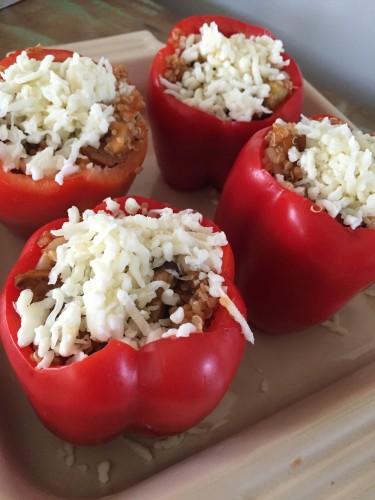 I am on the advisory board for Applegate – all opinions are my own