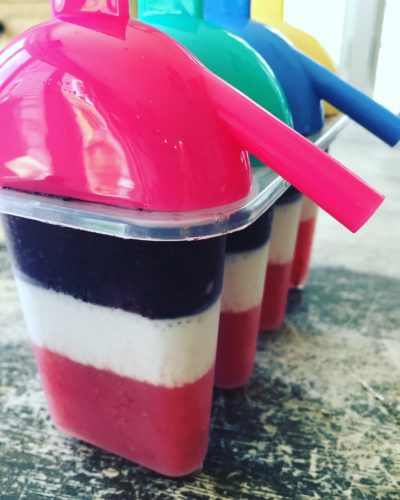 A festive, colorful, and healthy way to beat the heat this Independence day! These layered ice pops use antioxidant-rich berries, melon, banana and coconut to create an edible version of those patriotic colors. Kids will swoon for these naturally sweetened ice pops (no added sugar in these babies) and a splash of tequila will turn them into a refreshingly boozy treat for the grown ups. Each layer needs some time to freeze so be sure to make these the day before your July 4th celebration.
Red, White & Blue Ice Pops
Makes 12 Ice pops
Layer 1: Strawberry-Watermelon
1 cup whole strawberries
1 cup diced watermelon
½ cup water or coconut water
Layer 2: Banana-Coconut
1 cup canned coconut milk
1 medium banana
Layer 3: Wild Blueberry
1 cup frozen wild blueberries
½ cup 100% apple juice
Combine the strawberries, watermelon and water in a blender and blend until smooth. Pour mixture into popsicle molds, filling each mold 1/3 of the way up. Place molds in the freezer (do not insert sticks yet) and allow to freeze for 20 minutes or until slightly firm. While the first layer is freezing, wash out the blender and repeat process by blending the coconut milk and banana. Pour a second layer into molds with the banana mixture and return to the freezer for another 20 minutes. For the final layer, blend wild blueberries and apple juice until smooth. Fill the popsicle molds to the top with the blueberry mixture and then gently insert sticks and caps of the molds. Return to the freezer and allow to completely freeze for at least 4 hours or overnight.*
Nutrition Per Ice Pop: Calories: 66; Total Fat: 4 grams; Saturated Fat: 4 grams; Total Carbohydrate: 8 grams; Sugars: 4 grams; Protein: 1 gram; Sodium: 7 milligrams; Cholesterol: 0 milligrams; Fiber: 1 gram
*Note – For the alcoholic version, mix 1 tablespoon of tequila with each layer and allow an extra 15 to 20 minutes to freeze between layers. Use different molds or add garnishes of fresh fruit so it's easy to tell which ice pops contain alcohol.
This recipe was originally featured on the KidBox blog – the Scribble