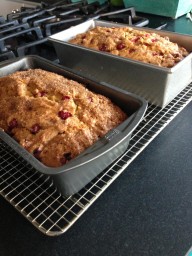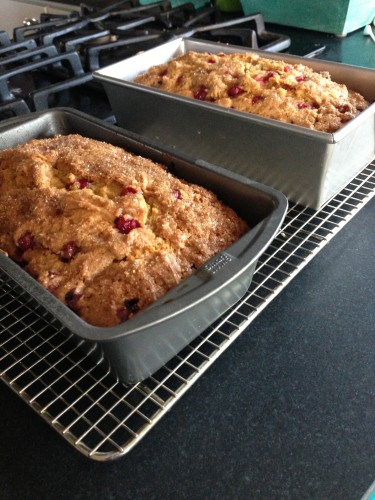 Pumpkin-Cranberry Bread
Makes 1 loaf (12 slices)
Ingredients:
2 cups all purpose flour
1 ½ teaspoons baking powder
½ teaspoon baking soda
½ teaspoon ground cinnamon
1 teaspoon kosher salt
1 cup light brown sugar
1 large egg, beaten
½ cup canola oil
¼ cup applesauce
½ cup milk
1 teaspoon vanilla extract
½ can pumpkin puree
3 cups fresh cranberries
1 tablespoon turbinado or sparkling sugar (optional)
Nonstick cooking spray
Directions:
Preheat oven to 375 degrees F. Spray a loaf pan with nonstick cooking spray and set aside. In a large bowl, combine flour, baking powder, baking soda, cinnamon and salt; whisk well to combine. In a separate bowl whisk together brown sugar, egg, canola oil, applesauce, milk, vanilla and pumpkin puree.
Add pumpkin mixture to dry ingredients and mix until just combined. Fold in cranberries. If mixture appears dry add an additional splash of milk.
Pour batter into prepared loaf pan and sprinkle with sugar, if using. Bake for 45 to 50 minutes or until a toothpick comes out clean from the center. Allow to cool for 30 minutes before serving.
Nutrition Info Per Slice; Calories: 243; Total Fat: 10 grams; Saturated Fat: 1 gram; Total Carbohydrate: 37 grams; Sugars: 19 grams; Protein: 3 grams; Sodium: 218 milligrams; Cholesterol: 17 milligrams; Fiber: 2 grams