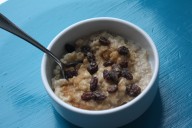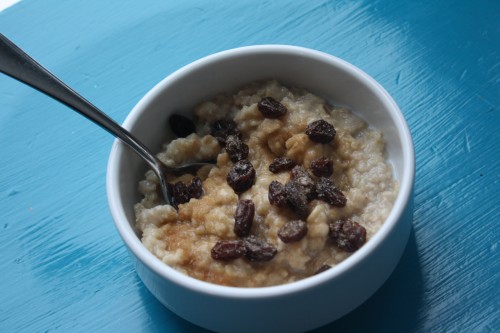 I've made oatmeal this way so many times I had to write up the recipe. It has all the sweet goodness of sticky bun, but it is a much healthier way to start your day. For easy morning time prep, make plain oatmeal ahead and store in the fridge. Microwave to reheat and then pile on the toppings.
1 teaspoon ground cinnamon
4 teaspoons brown sugar
1 ½ cups rolled oats
¼ cup raisins
¼ cup chopped walnuts (optional)
Low-fat milk or soy milk (optional)
In a small bowl, combine cinnamon and sugar—set aside. Prepare oats with water according to package directions. Top with cinnamon sugar, walnuts, and raisins; stir. Finish with a splash of milk or soy milk, if desired.
Yield: 3 cups
Nutrition information per ½ cup
Calories: 143, Total Fat: 5 grams, Saturated Fat: 1 gram, Carbohydrate: 24 grams, Sugars: 13 grams, Protein: 3 grams, Sodium: 64 milligrams, Cholesterol: 0 milligrams, Fiber: 2 grams, Vitamin D: 17 IU, Calcium: 25 milligrams, Iron: 1.7 milligrams
Excerpted from First Bites: Superfoods for Babies and Toddlers by Dana Angelo White. © 2015 by Dana Angelo White. A Perigee Book, Penguin Group USA, A Penguin Random House Company.