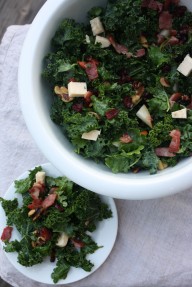 It's a seasonal dilemma – is there room for a salad as part of a holiday spread? Let's face it – some salads just won't cut it – destined to be overlooked by your guests in search of other goodies to pile on their plates. This salad is a game changer! Complete with salty bacon, sweet cranberries, fresh kale, crunchy walnuts, and tangy dressing. It's also gorgeous – fit for any holiday table!
I am proud to be a member of the Applegate advisory board and love, love, love their Natural Good Morning Bacon. It cooks up super fast and adds the boost of smoky flavor that makes this salad so special.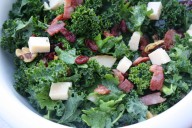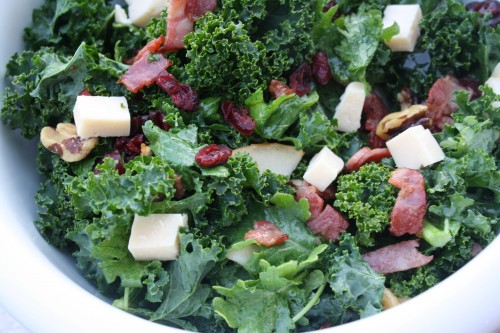 Holiday Salad
This salad tastes better the longer it sits. Make it ahead (dressing and all) and store in the fridge. Allow to come to room temperature before serving.
Serves 6
4 ounces bacon, chopped
¼ cup extra virgin olive oil
3 tablespoons rice vinegar
1 teaspoon Dijon mustard
2 teaspoons honey
1 clove garlic, minced
8 cups chopped kale
1 medium pear, thinly sliced
¼ cup dried cranberries
¼ cup chopped walnuts
½ cup diced Manchego cheese
Kosher salt
Freshly ground black pepper
Cook bacon in a nonstick skillet until crispy, transfer bacon and any renderings aside to cool slightly. In a large bowl combine oil, vinegar, mustard, honey and garlic; season with salt and pepper and whisk well. Add cooked bacon to dressing and stir to coat. Add remaining ingredients and toss well.
Nutrition Info Per Serving:
Calories: 297; Total Fat: 19 grams; Saturated Fat: 5 grams; Total Carbohydrate: 21 grams; 
Sugars: 10 grams; Protein: 14 grams; Sodium: 690 milligrams; Cholesterol: 37 milligrams
; Fiber: 3 grams