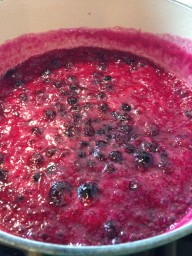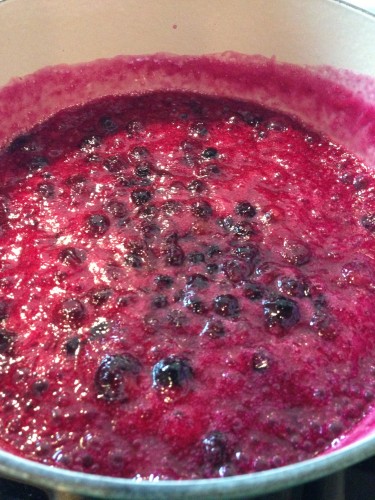 I get uncomfortably excited when springtime rhubarb comes along. Ever since it appeared in my CSA box I've been dreaming about a recipe for sweet… tart ….. and vibrantly purple jam.
Blueberry-Rhubarb Jam
Makes about 3 cups
1 ¼ cups finely chopped rhubarb
1 cup blueberries
¼ cup water
¼ cup regular pectin (I used Sure-Jell)
3 cups granulated sugar
Combine rhubarb, blueberries, and water in a 4 to 6-quart pot; bring to a boil. Stir in pectin and continue to boil, stirring constantly for one minute. Add sugar and continue to stir. Return to a boil and once boiling furiously, cook for one minute more. Turn off heat and allow to cool for at least 20 minutes before ladling into glass jars. Store in the refrigerator for up to three weeks.
Nutrition Info Per Tablespoon: Calories: 61; Total Fat: 0 gram; Saturated Fat: 0 grams; Total Carbohydrate: 15 grams; Sugars: 15 grams; Protein: 0 grams; Sodium: 20 milligrams; Cholesterol: 0 milligrams; Fiber: 0 grams