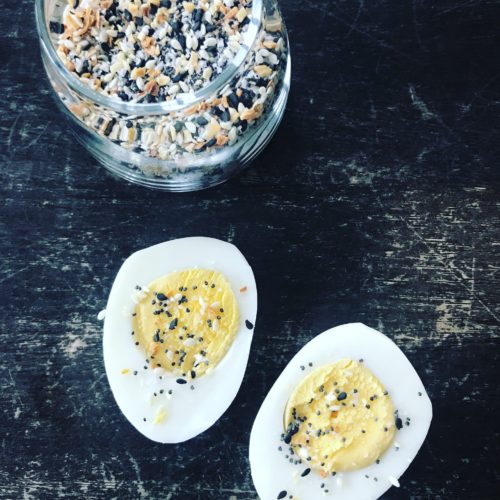 This 2-ingredient recipe really is everything you could want with high quality protein filled eggs and just the right amount of spice.
Meal prep hard cooked eggs in bulk using your Instant Pot. Add 1 cup of water to the inner pot and set a rack on top. Place up to 1 dozen eggs on the rack then cover and seal. Cook on high pressure for 5 minutes. Wait 5 minutes more, then quick release the pressure. Place eggs in an ice bath until cooled; store in the refrigerator in the shell for up to one week.
Serves: 1
2 hard cooked eggs
½ tsp Everything Bagel Seasoning
Remove egg shell and slice eggs in half lengthwise, sprinkle with seasoning and enjoy.
Nutrition Info: Calories: 148; Total Fat: 10 grams (3g saturated fat); Carbs: 1g; Protein: 13g; Sodium: 222mg; Chol: 372mg; Fiber: 0; Sugar: 0g