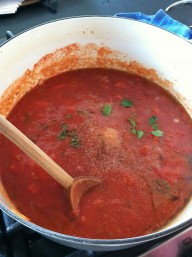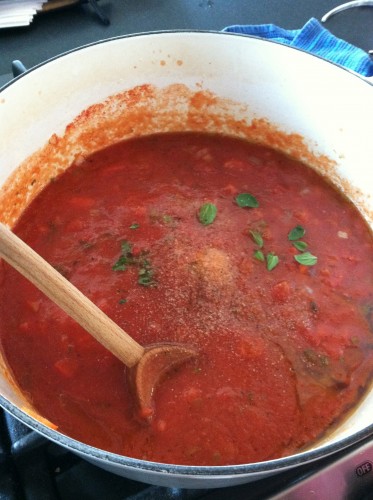 This recipe is a life saver! There's always a batch in the fridge and another in the freezer. Perfect for pizza, pasta, calzone and dipping sauces. It also easily morphs into chili and Sloppy Joes.
Basic Tomato Sauce
Forget about jarred marinara – this recipe is simple and better for you!
Makes: 1 quart
2 tablespoons extra virgin olive oil
1 clove garlic, chopped
½ medium onion, chopped
½ teaspoon ground fennel
1, 28-ounce can crushed tomatoes
1 teaspoon granulated sugar
1 cup fresh basil leaves
Kosher salt and freshly ground black pepper
Heat oil in a medium saucepan. Add garlic and onion and sauté for 5 minutes. Add fennel and cook for 20 seconds, until fragrant. Add tomatoes and sugar; season with ½ teaspoon salt and black pepper to taste. Cook, uncovered, for 20 minutes, stirring occasionally. Add basil and season with additional salt and pepper, if needed. Puree sauce using an immersion blender* until smooth.
(*If you do not have an immersion blender, puree in a countertop blender in small batches. Make sure to hold the top of the blender closed with a dish towel while the machine is on.)
Nutrition Info Per ½ cup
: Calories: 68; Total Fat: 4 g rams
; Saturated Fat: 1 gram;
 Total Carbohydrate: 9 grams
; Sugars: 1 gram; Protein: 2 grams ; Sodium: 202 milligrams
; Cholesterol: 0 milligrams
; Fiber: 2 grams