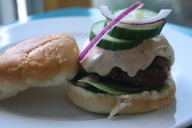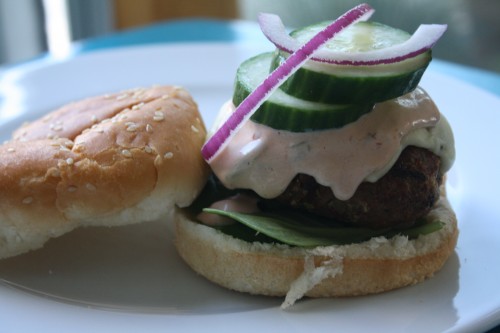 Ground lean ground turkey can make a tasty burger but the lower fat meat will dry out without a few mix-ins to help retain the moisture.
I create burger recipes with whatever I've got in the fridge. Leftover veggies, shredded cheeses, even chutney or tomato sauce may get tossed in. My latest creation was worth sharing! A hint of salty bacon and some fresh arugula pesto — topped it off with a simple sauce made from pickle relish, Greek yogurt and Sriracha.
Yield: 4 burgers
1 pound lean ground turkey
½ cup crumbled cooked bacon
1 tablespoon prepared pesto sauce
½ cup whole-wheat panko bread crumbs
½ teaspoon kosher salt
Freshly ground black pepper to taste
4 whole-wheat hamburger buns
Toppings: sliced red onion, cucumber, tomato, lettuce, pickles, ketchup, Sriracha
Heat grill or grill pan to medium-high. In a large bowl combine turkey, bacon, pesto, panko, salt and pepper; mix gently with a fork. With clean hands, form into 4 burgers.
Cook for 6 to 7 minutes per side or until cooked through. Serve in whole-wheat buns topped with cheese and desired toppings.
Calories: 350; Total Fat: 6 grams; Saturated Fat: 2 grams; Total Carbohydrate: 28 grams
Sugars: 4 grams; Protein: 42 grams; Sodium: 816 milligrams; Cholesterol: 86 milligrams
Fiber: 3 grams