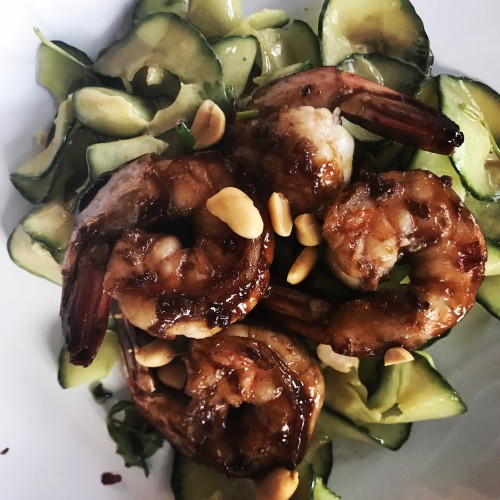 Take a look inside my kitchen as I experiment with the many fun ways you can cook with 100% grape juice.
Crushing On Concords
Concord grapes are truly special as they are one of few native crops to the United States. But Concord grapes have a short harvest season and don't travel well, so they can be hard to find fresh. The good news is that you can enjoy the Mighty Concord year-round with 100% grape juice – in a glass or in a creative recipe!
It's equally impressive that this powerful purple berry is teeming with heart health promoting plant nutrients called polyphenols, which promote healthy circulation and help keep energy flowing. In honor of Heart Health Month, I've partnered with Welch's to bring you some fun and easy, ideas and recipes.
With similar heart-healthy compounds to those found in red wine, Welch's 100% grape juice is squeezed from the whole fruit so you get the nutrient benefits of the skin, seeds and flesh. It's also an excellent source of vitamin C.
Grape Juice in the Kitchen
There are plenty of everyday uses for Concord grape juice in the kitchen. Add a few splashes to smoothies or make a batch of refreshing one-ingredient fruit juice slushies in your ice cream maker. Grape juice can also add interest and sweetness to spicy sauces. Here's a totally unexpected take on the beloved combo of PB&J.
Grape-Chili Glazed Shrimp with Peanut Cucumber Salad
Total Time: 40 min
Preparation Time: 15 min
Cook Time: 25 min
Serves: 4
½ cup Welch's 100% Grape Juice
1 clove garlic, minced
1 tablespoon rice wine vinegar
2 teaspoons reduced sodium soy sauce
1 teaspoon Sriracha
2 teaspoons canola oil
1 pound raw shrimp, peeled and deveined
2 tablespoons natural peanut butter
1 tablespoon rice vinegar
1 teaspoon reduced sodium soy sauce
2 tablespoons warm water
2 English cucumbers, spiralized
3 tablespoons chopped cilantro
2 tablespoons chopped peanuts
Combine grape juice, garlic, vinegar, soy sauce and Sriracha in a small saucepan. Bring to a boil, reduce heat to a simmer and allow to cook for 15 minutes, until thickened; set aside to cool slightly.
Heat oil in a skillet, add shrimp and cook for 2 minutes per side. Add the grape-chili sauce to the skillet and cook for an additional 5 minutes over medium heat or until shrimp are opaque and cooked through.
In a separate bowl whisk peanut butter, vinegar, soy sauce and water; add cucumber and cilantro and toss gently. Top cucumber salad with cooked shrimp and garnish with chopped peanuts.
Nutrition Info Per Serving
Calorie: 216;  Total Fat: 10 grams; Saturated Fat: 1 gram; Total Carbohydrate: 12 grams; 
Sugars: 6 grams; Protein: 20 grams; Sodium: 585 mg; Cholesterol: 143 mg; 
Fiber: 2 grams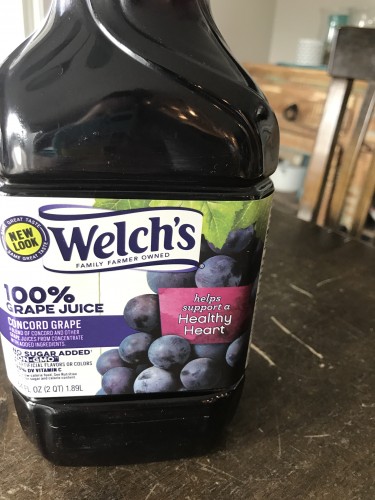 Disclosure: This post is sponsored by Welch's. I was compensated for my time, but the recipe and opinions are my own