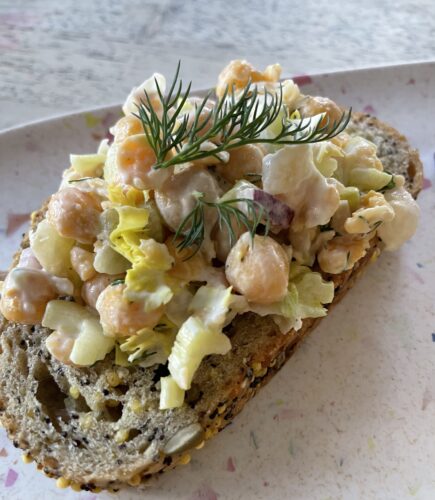 I am on a huge chickpea kick lately. Here are 5 ways to LOVE this healthy legume.
Chickpea Salad! First up is this fun vegetarian spin on tuna or chicken salad bursting with flavor and plenty of protein and fiber. Make a big batch and enjoy for snacks and lunches all week long.
The second chickpea superstar recipe is the crunchiest and most addictive snack. These babies are perfect for salads, rice bowls, soup or just by the handful. Discover Crunchy Rosemary Chickpeas.
Did you know a 3/4 cup serving of chickpeas – aka garbanzo beans – contains 120 calories, 2 grams of fat, 4 grams of fiber and 7 grams of protein? For #3 on the list we are going crazy for bean salad – I am not sure how to explain why this recipe is so amazingly delicious – it just is. A unique combo of flavors that just works. Try the Crazy Good Bean Salad and let me know if you agree.
Yes, canned beans do contain sodium – but rinsing and draining can reduce the sodium by up to 40%. You can also reserve the canning liquid – known as "aquafaba" – and use that for a vegan replacement for eggs – it's magical stuff. This recipe for Simple Hummus uses a small portion of the canning liquid to add flavor and silky smooth texture.
Last, but never least on the list of top 5 bean-loving recipes is of course, chili. Whether you opt for a vegetarian version or my family's Favorite 3-Bean Chili – this dish is delightful any time of year and can be made with any beans you adore.