Air Fryer Strawberry Shortcake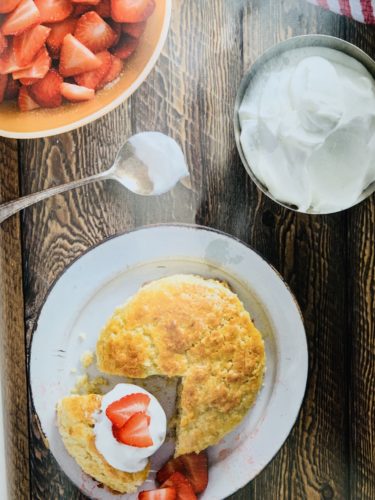 One of the best desserts on the planet. Make batch of fresh shortcake in the air fryer and pile on the berries.
Serves: 4
2 cups fresh strawberries, sliced
1 tbsp + 2 tsp granulated sugar
1 cup all-purpose flour
1 tsp baking powder
¼ tsp baking soda
¼ tsp kosher salt
3 tablespoons cold unsalted butter, diced
½ cup low fat buttermilk
Whipped cream, for serving
Combine strawberries and sugar in a bowl; mix and set aside.
Preheat air fryer to 300°F and spray a baking pan with nonstick spray.
Whisk flour, sugar, baking powder, baking soda and salt and in a bowl; add butter and using clean hands or a pastry cutter mix, break butter into small pieces.
Slowly pour in buttermilk and mix until dough comes together; it will be sticky!
Transfer to prepared baking pan; spread out and press down in an even layer.
Cook for 15 minutes or until golden brown on top and cooked through.
Allow to cool for 10 minutes, then serve with strawberries and a dollop of whipped cream.
Nutrition per serving: Calories: 244;  Total Fat: 12 grams; Saturated Fat: 7 grams; Total Carbohydrate: 31 grams
Sugars: 7 grams; Protein: 5 grams; Sodium: 371 milligrams; Cholesterol: 34 milligrams
Fiber: 2 grams
Excerpted from Healthy Air Fryer Cookbook reprinted by permission of Alpha, a division of Penguin Random House LLC. Copyright © 2017 by Dana Angelo White