Dragon Fruit Dream with Raspberries + Honey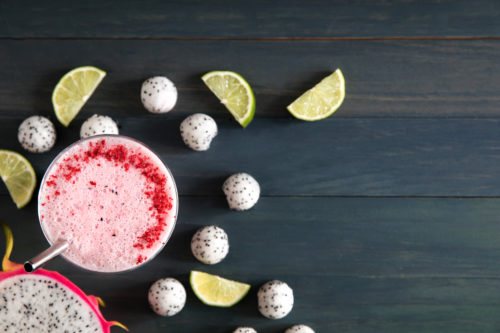 Dragon fruit is a tropical fruit that contains healthy carbs, iron, magnesium, and hunger-fighting fiber. You can find fresh dragon fruit in autumn and winter or frozen is available year around. 
Serves: 2
1 ½ cups unsweetened coconut milk beverage
1 cup frozen dragon fruit
¼ cup freeze dried raspberries
1 tbsp honey
Juice of ½ lime
In a blender, combine coconut milk, dragon fruit, raspberries, honey, and lime juice. Blend on high speed until smooth. Pour and serve immediately.
Nutrition per serving: 147 calories; 3 g fat; 0 mg cholesterol, 28 mg sodium; 27 g carbohydrate (27g sugar, 8g added sugar, 5g fiber), 2g protein
Excerpted from Healthy Quick & Easy Smoothies reprinted by permission of Alpha, a division of Penguin Random House LLC. Copyright © 2018 by Dana Angelo White