Crispy Skillet Tofu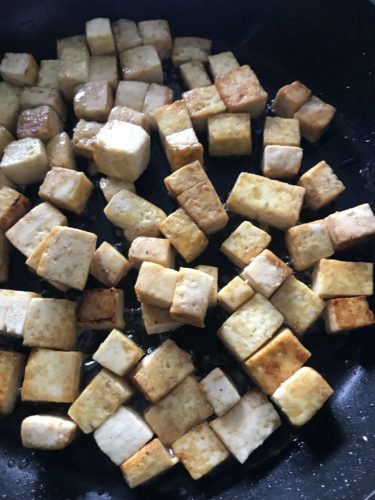 Don't turn away from tofu without trying THIS recipe. Crunchy bites of tofu add plant based protein power to any rice or noodle dish – tacos and burritos too!
Serves: 4
1 package (14 oz) extra firm tofu
1 tbsp cornstarch
2 tbsp canola oil
1/2 tsp kosher salt
Drain and cube tofu, place in a bowl line with paper towels and drain for at least 10 minutes or place in the fridge to drain for up to 12 hours.
Remove paper towel and sprinkle with cornstarch, toss to coat. Heat oil in a nonstick skillet, add tofu cubes and cook, turning frequently until browned and crispy on all sides, about 15 to 20 minutes total. Season with salt and serve.
Calories: 150; Total Fat: 12 grams; Saturated Fat: 0 grams; Total Carbohydrate: 4 grams
Sugars: 0 grams; Protein: 10 grams; Sodium: 250 milligrams; Cholesterol:  0 milligrams; Fiber: 0.5 gram