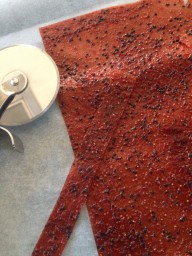 Commercially prepared fruit leathers are filled with highly processed sweeteners and even trans fats! This recipe is made from whole-food ingredients and keeps the sugar content in check. Take the kids berry picking and hold on to the tasty memories a bit longer. It is just as easy to double or triple this recipe but be sure to use separate sheet pans for each batch to get the proper thickness and cooking time. This recipe is a little time-consuming but most of the time is inactive. The hardest part will be waiting to dig in.
1½ cups chopped fresh strawberries
½ cup chopped fresh kiwi
2 tablespoons sugar
2 tablespoons honey
Preheat oven to 170°F. Line a baking sheet with parchment paper or a Silpat mat and set aside. Place fruit, honey, and sugar in a medium saucepan. Bring to a boil and cook for about 5 minutes, then puree using an immersion blender.* Continue to cook over medium-high heat for an additional 10 to 15 minutes or until thick and syrupy; the mixture should be thick enough to coat the back of a spoon. Pour the hot fruit mixture onto pre- pared baking sheet and spread evenly into approximately an 8 × 12 inch rectangle. Place in the oven and bake for 3 hours. After 3 hours have passed, turn off the oven and allow to sit overnight. Cut into strips with a pizza cutter; roll up in a clean piece of parchment paper. Store in an airtight container for up to 3 weeks.
*If you do not have an immersion blender, puree in a food processor and then return mixture to saucepan.
Yield: 12 strips
Nutrition information per 1 strip
Calories: 21, Total Fat: 0 grams, Saturated Fat: 0 grams, Carbohydrate: 5 grams, Sugars: 4 grams, Protein: 0 grams, Sodium: 1 milligram, Cholesterol: 0 milligrams, Fiber: 1 gram, Vitamin D: 0 IU, Calcium: 6 milligrams, Iron: 0.1 milligram
Excerpted from First Bites: Superfoods for Babies and Toddlers by Dana Angelo White. © 2015 by Dana Angelo White. A Perigee Book, Penguin Group USA, A Penguin Random House Company.

Print This Post