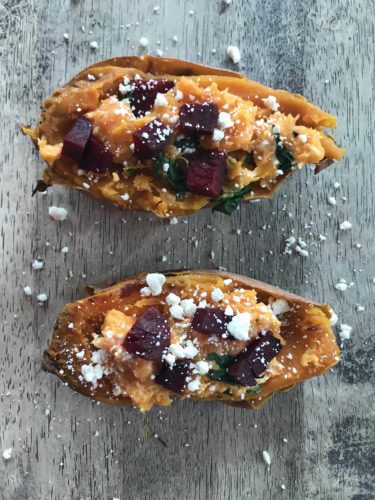 This side dish will steal the show with its vibrant colors and flavors. Add some black beans and serve as a vegetarian main course.
To prepare beets in the Instant Pot, steam unpeeled on manual, high pressure for 15 minutes and use quick release method. Cool, peel and chop.
Serves: 6
3 medium sweet potatoes
2 tbsp low fat Greek yogurt
½ tsp kosher salt
Pinch red pepper flakes
2 cups baby spinach
1 cup diced cooked beets
1/3 cup crumbled feta cheese
Place a steamer insert in the bottom of the inner pot and pour in 1 cup of water. Poke a few holes in each sweet potato and place in the steamer. Cover and lock the lid in place. Set to Pressure Cook (high) for 15 minutes. Use quick release method. Set sweet potatoes aside cool for 5 minutes or until cool enough to handle, then cut in half lengthwise. Scoop out most of the flesh and transfer to bowl. Place the skins on a platter. Mix sweet potato with Greek yogurt, salt, red pepper and baby spinach. Fill each skin with mixture, then top with chopped beets and feta. Serve warm or at room temperature.
Calories: 195, Total fat: 4g; Saturated fat 3g; Cholesterol: 15mg; Sodium: 408mg; Carbohydrates: 35g; Dietary fiber: 6g; Sugars: 11g; Protein: 7g