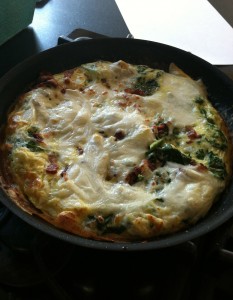 When I'm pressed for time, this recipe saves me! Breakfast for dinner is always a family favorite.
Kale & Turkey Bacon Frittata
Serves: 6
Ingredients
4 large eggs
4 large egg whites
¼ cup skim milk
Kosher salt and freshly ground black pepper
4 slices turkey bacon, diced
2 ½ cups finely chopped kale
1 cup diced tomatoes
¾ cup shredded Swiss cheese
Directions
Preheat broiler. In a large bowl, combine eggs, egg whites and milk. Season with salt and pepper and whisk well. Set aside.
Cook bacon in a large (oven-safe) nonstick skillet over medium heat until crispy; transfer to a paper towel to drain. In the same pan add the kale and tomatoes and cook until kale is just wilted. Add the egg mixture to the pan and scramble gently. Sprinkle with cooked turkey bacon and cheese.
Transfer pan to the broiler and cook until eggs are set and cheese is melted (3 to 4 minutes). Allow to cool slightly, slice and serve.
Nutrition Per Serving
Calories: 200; Total Fat: 12.5 grams; Saturated Fat: 4.5 grams; Total Carbohydrate: 6 grams; Protein: 15 grams; Sodium: 462 milligrams; Cholesterol: 144 milligrams; Fiber: 1.5 grams