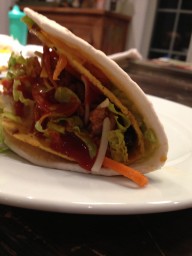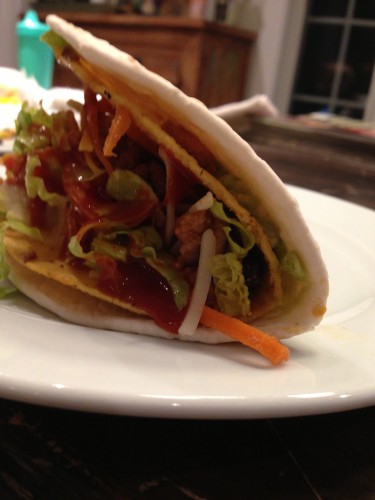 Ever give a 3 year old a hard taco shell? It's a crumbly mess in seconds. That's why we started making "double tacos." I must hand it to my hubby – this idea was all him.
Smear a flour tortilla with guacamole or mashed avocado. Place a hard taco shell inside and fill as desired. SO much easier for little fingers to manage – and it tastes pretty gosh darn delicious too.
I make my taco filling with 1 pound of ground turkey and Penzey's Taco Seasoning. I add beans, grated carrots, and thinly sliced bell peppers for extra substance, fiber, and crunch. For toppings shredded cheese, chopped lettuce, and salsa are family favorites. I hope you try double turkey taco night with your loved ones soon!