Archive for the 'Sports Nutrition' Category
Holiday Gift Guide 2017
Tuesday, November 21st, 2017
Need some holiday gift ideas for the healthy foodies on your list? Here are a few of my favorite things.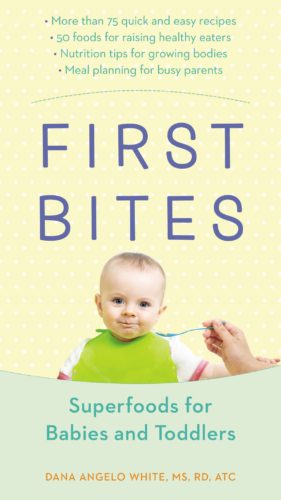 Recipe Inspiration
Signed cookbooks from SHOP Dana White Nutrition. Anyone expecting a baby? Bundle The Whole 9 Months and First Bites! I'm also digging the concept behind the Perfect Bake 2.0 – love the idea of being able to scale baking recipes up and down without doing all that math.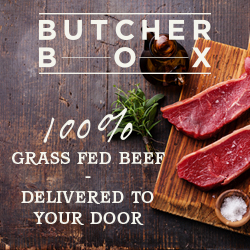 Delicious Delivered
The best quality meats from Butcher Box — plus FREE BACON! Spice subscriptions from Dash & Dram. Lunch boxes and water bottles from Box Appetit. Gourmet chocolate from Chuao. And don't forget to sweat a little with a camo tank from lululemon and some bright and wild muscle recovery from PRO Compression Socks.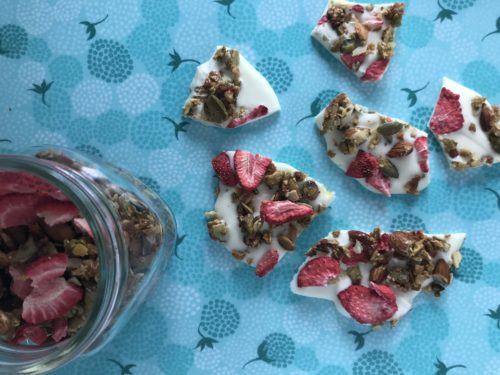 Homemade Gifts
Some of the best gifts are the ones you make yourself. Homemade Vanilla Extract is still my favorite go-to hostess gift and little bags of Strawberry Crunch Bark make delightful stocking stuffers and party favors.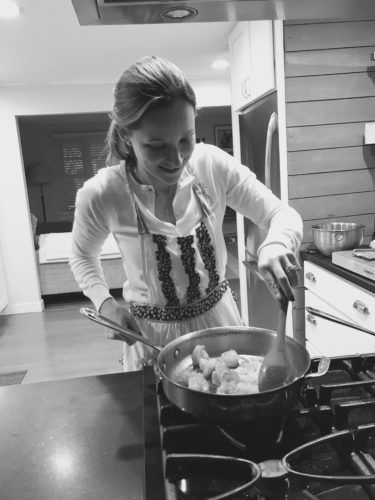 Nutrition Services
Does someone you love need a jump start on healthy habits? Treat them to nutrition counseling or customized meal planning.
Posted by Dana White / Filed under
Product Reviews
,
Recipes
,
Seasonal Goodies
,
Sports Nutrition
/ Comments: 1
Gingersnap Smoothie
Friday, December 23rd, 2016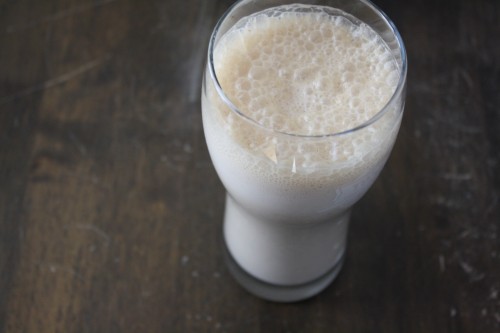 Spices like ginger and cinnamon help with digestion and blood sugar control. Sip on this shake after a meal or add a scoop of protein powder for recovery snack.
Serves: 1 


½ frozen banana
3 graham crackers
1 teaspoon ground ginger
1 tablespoon honey
Pinch cinnamon
1 cup vanilla soy milk

Combine ingredients in a blender – blend until smooth. 

Nutrition Information Per Serving
Calories: 324
Total Fat:  6 grams
Saturated Fat: 1 gram
Carbohydrate: 60 grams
Fiber:  3 grams
Protein:  9 grams
Sodium: 192 milligrams
Cholesterol:  0 milligrams
Posted by Dana White / Filed under
Just Yummy
,
Kid-Friendly
,
recovery foods
,
Sports Nutrition
/ Comments: 0
Going to Bat for Sports Drinks
Tuesday, August 23rd, 2016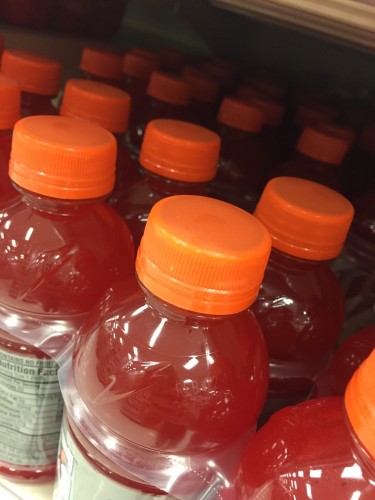 I recently ran a half marathon – 13.1 miles in the heat and humidity of late June certainly ups the ante on an already challenging activity. Despite the heat the race was a success, but there's just one thing I can't get out of my head. As an avid runner, certified athletic trainer and sports dietitian with more than 15 years of experience I've got a bone to pick! Where was the sports drink!?!
Why sports drinks get a bad rep
Sports drinks such as Gatorade contain a combination of water, electrolytes and carbohydrates formulated in a proper balance to allow for optimal absorption and replenishment of what is lost on sweat. These are not to be confused with stimulant enhanced "energy" drinks, which I never recommend under any circumstances. I've also noticed a new trend of electrolyte-enhanced drinks that offer no calories or sugar – these may come in handy for certain situations.
In this sugar filled society we should be on the lookout for where to cut added sugar out of our diet and sugar sweetened sports drinks can be misused. Athletes of all ages need to identify when the sweet stuff can work to their advantage. There's no need for my 6 year old to slurp down a sports drink after a short soccer practice or for a high school athlete to toss one back while sitting home playing video games. BUT there ARE times when these bevies can play an important role in performance. Sugar provides easily digestible energy to help maintain energy levels – this used during a workout in conjunction with proper pre and post workout fueling can make a HUGE difference.
 
Back to the half marathon…
Race day arrives and I eagerly make my way to the beach side event. Despite the presence of sponsors (pretty decent ones I might add) I was shocked to see the race was only providing calorie free beverages – calorie FREE?! Water and a Stevia sweetened electrolyte drinks along the course and one station with a specialized gel product I wasn't comfortable trying for the first time during a race! I'm running and pouring sweat from every pore in my body – I  WANT CALORIES – I WANT SUGAR! Exactly what a sports drink provides.
Another thing to consider when running a race is familiarity. I don't suggest trying a new food or beverage during a race – EVER. Experiment with these things during training to prevent any undesired issues with tolerance – the last thing you need is stomach ache (or worse) while competing.
When to reach for a sports drink
Water is an ideal choice for fluid replacement for activities lasting less than 1 hour. If conditions are hot and humid and/or activity will last more than 60 minutes it's time to reach for something that will help replace the fluid you are losing plus the electrolytes and carbs your body needs to perform its best.
Posted by Dana White / Filed under
Sports Nutrition
/ Comments: 0
Sports Nutrition Basics: Recovery Foods
Monday, August 15th, 2016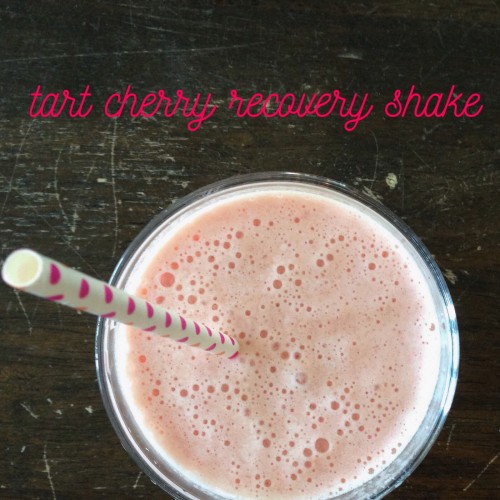 Watching the Olympics gets me even more fired up for my workouts. While I'll never be an Olympic athlete, it is still important to fuel my body properly before and after exercise.  
Recovering with the right foods after every session is vital to keeping muscles strong and healthy. It also helps replenish energy stores so I have plenty of energy for the next round of activity. If you want to recover better, reach for these five foods.
1.    Peanut Butter
Grab this budget-friendly fuel any time of day. Spread on apples, whole grain crackers or enjoy a couple of spoonfuls whirled into a smoothie.
2.    Eggs
Finish up an early morning workout with a veggie-filled omelet or egg sandwich on whole grain bread. Don't skip the yolks – they contain antioxidants, vitamins, minerals and just as much protein as egg whites.
3.    Tart Cherry Juice
This sweet and sour juice has been found to help fight inflammation and rejuvenate tired muscles. Use in smoothies, teas, and ice pops.
4.    Canned Fish
Canned salmon and tuna offer protein plus inflammation fighting omega-3 fats. Keep a few cans on hand for a healthy meal in minutes like these Sriracha Lime Salmon Collard Wraps.
5.    Greek Yogurt
For post workout protein Greek yogurt is the way to go, it's versatile, creamy, lower in lactose and offers a dose of bone-building calcium. Choose a yogurt like Chobani (my nutrition partner), it's made with non-GMO ingredients and contains double the protein of regular yogurt, making it ideal for recovery. Enjoy topped with granola and fruit or make this all-star shake….
TART CHERRY RECOVERY SHAKE
This shake is perfectly balanced with the proper proportions of carbs and protein for recovery. This recipe makes a big serving, cut in half for a snack-size portion. 
Serves: 1
1 cup frozen pitted cherries
1 cup tart cherry juice
1 cup water
2 teaspoons honey
1 container Chobani nonfat plain Greek yogurt


Combine ingredients in a blender – blend until smooth.
Nutrition Information Per Serving: Calories: 360
; Total Fat: 0 grams
; Saturated Fat: 0 grams
; Carbohydrate: 75 grams; 
Fiber: 3 grams; 
Protein: 18 grams
; Sodium: 100 milligrams
; Cholesterol: 10 milligrams

Posted by Dana White / Filed under
Recipes
,
recovery foods
,
Sports Nutrition
/ Comments: 0
Break The Protein Boredom
Monday, July 25th, 2016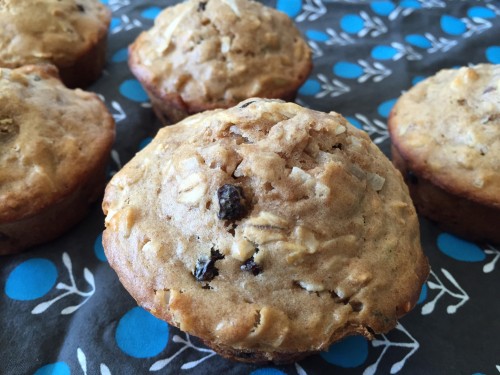 There's no disputing athletes need protein, but unfortunately the protein sources they choose aren't always optimal. And while chicken breast might be a good option, a little variety would be nice! Even more concerning is the average athlete's timing of protein intake, it's flat out incorrect for proper muscle recovery. I've partnered with EAS to demonstrate the proper way to eat protein, plus devised some tasty ways to get some.
Sources & Amounts
Ideal protein sources have a full panel of building blocks (aka – amino acids). Since the body doesn't have the capability to store protein, it uses what it needs from a meal or snack, and then gets rid of the extra (more on this below). So the goal is to offer a diverse array of amino acids for your body to work with. Achieve this protein smorgasbord by choosing proteins like lean meats, dairy, eggs or a whey or milk based protein supplement. Soy, quinoa, legumes and whole grains are also nutritious plant-based options. Aim for 20 to 25 grams of protein from foods like these at meals and snacks – here's how you get there…
What does 20 to 25 grams look like?
1 cup plain nonfat Greek yogurt (20 grams)
3 ounces of deli turkey + string cheese (20 grams)
3 eggs (21 grams)
1 scoop Myoplex Vanilla Protein Powder (26 grams)
1 cup low fat cottage cheese (28 grams)
2 tablespoons peanut butter + 1 cup milk (18 grams)
1 cup shelled edamame (17 grams)
3 oz tofu + 1 cup cooked quinoa (17 grams)
Timing
So remember when I mentioned you couldn't store protein? This is why timing is so important. Ideally protein rich foods should be spread out in smaller increments throughout the day. Conservative amounts of protein should be present at all meals, most snacks, and (without a doubt) post workout.
Pressed for time? Don't skip! Here's where a protein supplement from a good quality powder or bar can come in handy. Make a batch of these Power Cakes (recipe follows) ahead and have a healthy and protein-filled snack ready to go.
Learn more about how to build a healthy protein shake here from HealthyEats.com
EAS Power Snack Cakes
Make a batch of these handheld nutrition-packed cakes and store in the freezer. Grab one for breakfast or toss in your gym bag for a post workout snack.
Make 12 cakes
½ cup all-purpose flour
½ cup whole-wheat flour
¾ cup rolled oats
¼ teaspoon baking soda
½ teaspoon kosher salt
2 scoops Myoplex Vanilla Protein Powder
1 egg, beaten
½ cup lightly packed brown sugar
½ cup applesauce
½ cup canola oil
1 cup water
½ cup chopped walnuts
½ cup shredded coconut
¼ cup pumpkin seeds
¼ cup dried currants
Preheat oven to 350-degrees F. Spray a 12-cup muffin pan with nonstick spray. In a large bowl whisk together flours, oats, baking soda, salt and protein powder. In a separate bowl combine egg, brown sugar, applesauce, canola oil and water; whisk well. Add wet mixture to dry ingredients and mix until combined. Fold in walnuts, coconut, pumpkin seeds and currants. Using a ¼-cup measure, fill each muffin pan; bake for 13 to 15 minutes or until cooked through. Allow to cool completely before serving.
Nutrition Info Per Serving:
Calories: 254; Total Fat: 15 gram; Saturated Fat: 2 grams; Total Carbohydrate: 24 grams
Sugars: 11 grams; Protein: 9 grams; Sodium: 121 milligrams; Cholesterol:  17 milligrams; Fiber: 3 grams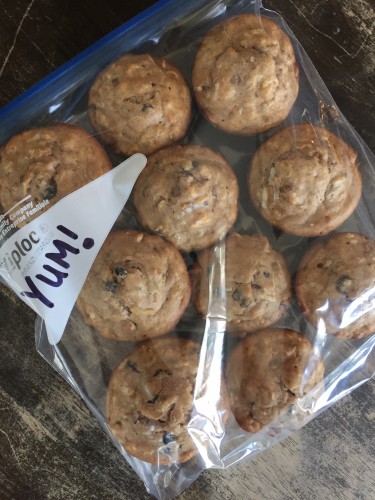 Posted by Dana White / Filed under
Sports Nutrition
/ Comments: 0
Eating for Performance: Steady Energy
Tuesday, June 28th, 2016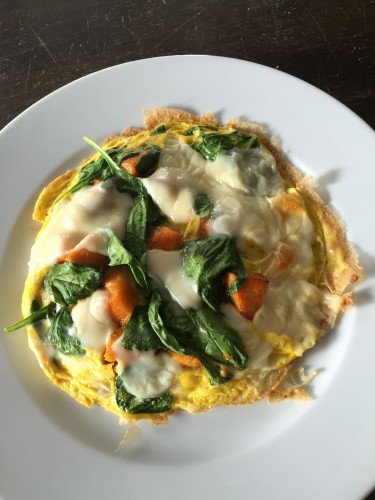 I just completed my first half marathon! The physical stress and attempts to juggle a training schedule with work and 3 kids has been challenging to say the least. Now that I've got that first race behind me I can honestly say I'd do it all over again. My weekly long runs had to come on Saturday or Sunday mornings which made fueling and hydrating a bit more difficult. If there's one thing this experience (and a background in sports nutrition) has taught me is that breakfast can make or break an early morning workout. In this sponsored post learn more about sustaining energy levels and get some inspiration for healthy breakfast ideas for those crack-of-dawn exercise sessions. 

Timing
Deciding what to eat really comes down to how much time you have. Do you need to roll out of bed and get running? Or do you have to get through a morning routine and hit the pavement a few hours later? Either way, make sure you have time to digest the fuel you eat so you can actually use it. This means you need a proper balance of carbs, fat and protein. And don't forget some fluid!


If you're pressed for time a convenient option are belVita Breakfast Biscuits featuring whole grains and slow release carbs to help give you sustained energy for prolonged activity. They are made with without high fructose corn syrup and are free of trans fats and artificial sweeteners and flavors.  They also contain a gentle amount of fiber — too much before a long distance run isn't a great idea.
Here's how to plan a preworkout meal around how much time you have.
1 hour
You need fuel delivered quickly but without a ton of sugar to cause spikes and crashes in energy levels. Fruit is helpful here because it also helps keep you hydrated; choose whatever type of fruit you tolerate well. 

Examples include:
1    slice wheat toast & ½  banana
½  English muffin & 1 tablespoon peanut butter
1 cup dry cereal & piece of fruit
3 hours 

More digestion time means more nutrition. A good time to get in some healthy carbs, protein and fat in a balanced meal. 
Three healthy options are:
2 eggs scrambled with spinach and sweet potato (pictured above)
belVita Yogurt & Fresh Orange Breakfast Pairing (recipe follows)
Yogurt and granola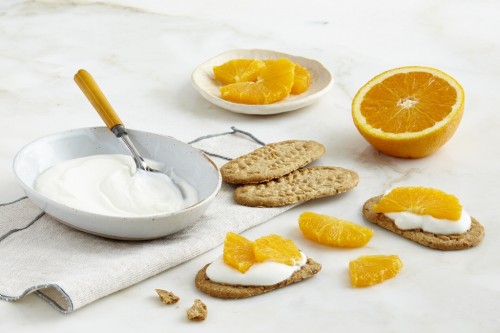 belVita Yogurt & Fresh Orange Breakfast Pairing
serves: 1
4 belVita Breakfast Biscuits, Cinnamon Brown Sugar (1 pkg)
1 single serve nonfat vanilla Greek yogurt
1 medium orange, peeled and sliced
Spread yogurt on belVita and top with orange
Nutrition Information per serving
Calories: 470; Fat: 8g: Carbohydrates: 72g; Protein: 17g; Fiber: 6; Sodium: 270mg
Posted by Dana White / Filed under
Sports Nutrition
/ Comments: 0
Very Cherry Protein Shake
Monday, November 30th, 2015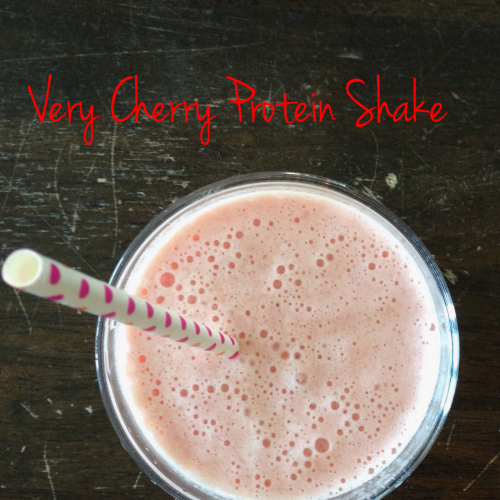 Cherries are loaded with cell-protecting and inflammation-fighting anti-oxidants. Research indicates that tart cherry juice aids with muscle recovery after exercise.
1 cup frozen pitted cherries
1 cup tart cherry juice
1 cup water
1 scoop vanilla protein powder
Combine ingredients in a blender – blend until smooth.
Nutrition Information Per Serving
Calories: 307
Total Fat:  0 grams
Saturated Fat:  0 grams
Carbohydrate:  57 grams
Fiber:  3 grams
Protein:  23 grams
Sodium:  199 milligrams
Cholesterol:  0 milligrams
Posted by Dana White / Filed under
Recipes
,
recovery foods
,
Sports Nutrition
/ Comments: 0
Peanut Butter and Banana Shake
Saturday, June 27th, 2015
Peanut butter gives this shake a little extra healthy fat to make it extra satisfying. Try making it with chocolate or banana protein powder, too.
Serves: 1


1 frozen banana
1 ½ cups low fat milk
2 tablespoons peanut butter
1 scoop vanilla protein powder
4 to 5 ice cubes (optional)

Combine ingredients in a blender – blend until smooth.
Nutrition Information Per Serving
Calories: 575
Total Fat: 21 grams
Saturated Fat:  5 grams
Carbohydrate: 54 grams
Fiber: 6 grams
Protein: 45 grams
Sodium: 441 milligrams
Cholesterol: 15 milligrams
Posted by Dana White / Filed under
Sports Nutrition
/ Comments: 0
Top 5 Recovery Foods
Tuesday, February 24th, 2015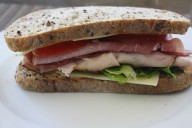 Misconception: Just eat lots of protein after a workout.
Truth: Eat protein along with carbohydrates after a workout to promote recovery and build muscle.
Science: Muscle cells are more sensitive to protein immediately after exercise.
Reach for these five foods to make the most of your workouts.  For best results, eat within 30 to 60 minutes after exercise. 
1) Chocolate milk – a huge hit with athletes and there's science to back it up! Chocolate milk delivers carbs, protein, fluid, electrolytes, and bone building nutrients all in one.
2) Greek yogurt – this higher protein option is also packed with calcium for strong bones. Not all brands contain vitamin D (another bone-building nutrient) so check labels!
3) Peanut butter – easy, tasty, and perfect for on the go!
4) Cold cuts – turkey, ham,  sliced chicken, and roast beef are lean protein options – slap together a sandwich (veggies too please) and be on your way!
5) Eggs – cap off an early morning workout with a quick scramble – add veggies and cheese to the mix and pair up with whole grain bread.
Posted by Dana White / Filed under
Sports Nutrition
/ Comments: 0