Eating for performance #foodisfuel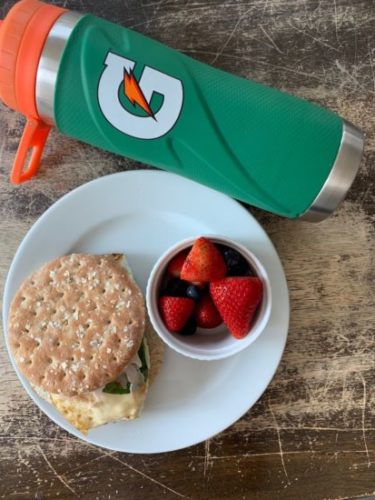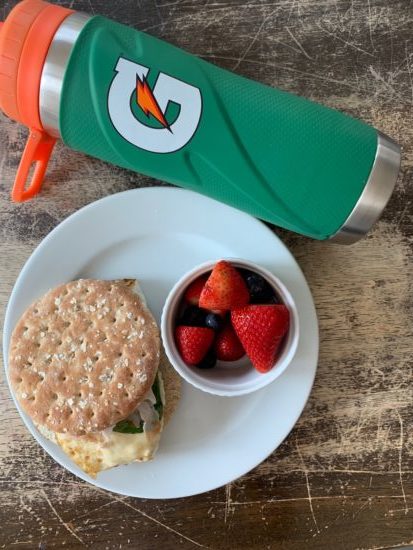 Sports Nutrition is all about timing and when you eat is just as important as what. Let's do some myth BUSTING.
MYTH: Don't eat or focus on eating only protein before a workout.
FACT: Choose carbohydrates plus small amounts of protein and fat for optimal digestion and fueling.
Protein is not an efficient energy source. You need the proper balance of carbs and fat to give you fuel.
What to eat before working out can be confusing. If you're pressed for time, don't skip eating – have a light snack. Focus on carbohydrates and small amounts of protein and fat for usable energy
Timing is critical: Consider how much you can tolerate and how well you can digest it
4 hours before a workout = Eat carbohydrate, protein, fat
Oatmeal (made with milk or PB) with fruit
Turkey and cheese sandwich with soup or salad
Salmon or chicken with pasta and salad
2-3 hours before a workout = Eat carbohydrates + moderate protein, less fat
Yogurt with granola
Energy bar (Clif, KIND Protein)
Trail mix
½ sandwich
Hummus + pita chips
1 hour or less before a workout = Eat easily digestible carbohydrates
Oatmeal, granola bar, smoothie, bagel, fruit, crackers, sports drink, pretzels
Eating for Recovery
Optimize muscle recovery by providing protein with carbs immediately after exercise
MYTH: Eat lots of protein after a workout.
FACT: Eat protein AND carbohydrates after a workout to promote recovery and build muscle.
What to eat after working out
Carbohydrates and lean protein – 25 to 40 grams
Antioxidant rich foods to fight inflammation
Immediately after a workout for maximum recovery
Snacks:
Low-fat chocolate milk & ½ sandwich

Smoothie/shake with Greek yogurt/cottage cheese or protein powder
Meals:
Eggs, potatoes, fruit
Chicken/tofu/steak stir-fry with vegetables and brown rice
Pasta with meat sauce with salad and milk
Grilled steak, chicken or salmon with baked/roasted potato and salad
Hydration
Hydrate to replace electrolytes, delay fatigue, regulate body temperature, and improve recovery!