Air Fryer Olive + Refried Bean Taquitos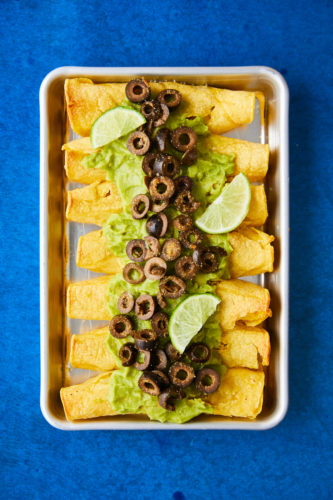 A fun spin on a fried taco! Look for good quality vegan canned refried beans – Trader Joe's is my favorite. To make this recipe gluten free, use corn tortillas
Makes 12 taquitos
12 flour tortillas (taco size)
1 (15 oz) can vegetarian refried beans
1 (6 oz) can black pitted olives, sliced
Juice of ½ lime
1 tsp ground cumin
Guacamole for serving
 Heat air fryer to 340°F
 Combine olives, lime juice and cumin in a small bowl and mix to combine.
Lay tortilla flat and spread 2 tbsp of refried beans in the center. Sprinkle with some of the olive mixture and roll, leaving the edge tucked under to it stays sealed.
 Repeat with the remaining tortillas. Spray with nonstick canola oil spray and place 6 pieces at a time into the air fryer basket.
Cook for 3 to 4 minutes until golden brown. Remove with tongs and set aside while you cook the remaining pieces.
Serve with guacamole.
Nutrition Info Per Serving (3 pieces, does not include guac): Calories: 313; Total Fat: 8 grams; Saturated Fat: 1 gram; Total Carbohydrate: 50 grams
Sugars: 3 grams; Protein: 8 grams; Sodium: 623 milligrams; Cholesterol: 0 milligrams
Fiber: 4.5 grams
Excerpted from Healthy Vegan Air Fryer Cookbook reprinted by permission of Alpha, a division of Penguin Random House LLC. Copyright © 2020 by Dana Angelo White