Healthy One Pan Dinners: Pesto Turkey Meatballs with Orzo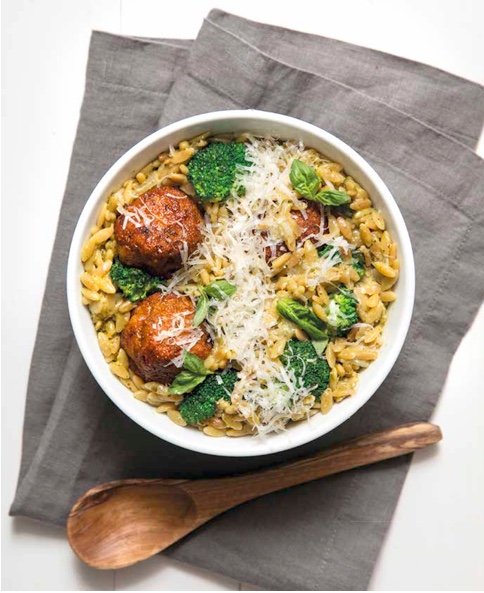 A satisfying meal in your cast iron skillet. Herbaceous pesto boosts the flavor throughout the dish and using lean ground turkey keeps it light yet filling
Serves : 4
1 pound 90% lean ground turkey
1 large egg, beaten
½ cup panko breadcrumbs
3 tbsp prepared pesto
Kosher salt
Black pepper
2 tsp olive oil
½ cup chopped onion
1 cup uncooked orzo pasta
2 1/2 cups low-sodium chicken stock
3 cups broccoli florets
Parmesan cheese to serve
In a large bowl combine the ground turkey, egg, breadcrumbs and 1 tbsp pesto. Season with salt and pepper. With clean hands, gently mix well and form into 8 balls.
In a cast-iron skillet, heat the olive oil over medium-high heat. Add the meatballs and cook until browned on all sides, about 8 minutes. Transfer to a plate.
To the same skillet, add the onion and remaining 2 tbsp pesto and sauté for 1 minute. Add the orzo and toss to coat in the sauce, cooking for another 1 to 2 minutes to gently toast the orzo.
Stir in the stock, increase the heat to high and bring to a simmer. Add the meatballs back to the skillet along with broccoli florets. Reduce the heat to low, cover and cook for 10 minutes or until orzo is tender and the meatballs are cooked through. Sprinkle with Parmesan and serve.
Store in an airtight container in the refrigerator for 3 to 4 days or freeze for up to 3 months.
Nutrition Per Serving
Calories: 483; Total Fat: 19 grams; Saturated Fat: 4 grams; Total Carbohydrate: 45 grams
Sugars: 4 grams; Protein: 35 grams; Sodium: 311 milligrams; Cholesterol: 130 milligrams
Fiber: 4 grams