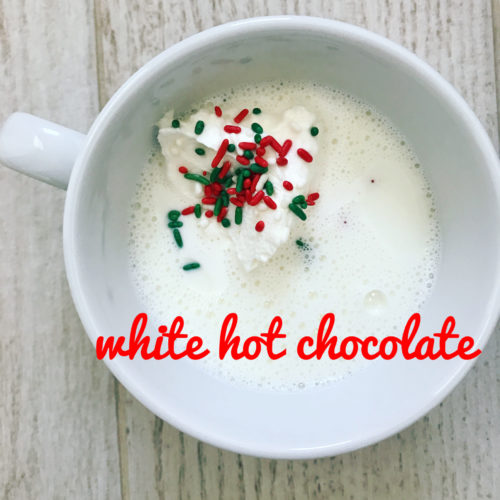 Hot chocolate is in high demand after my kids come in from playing in the snow. This calcium-rich recipe will also add a sweet touch to any holiday table.
White Hot Chocolate
Serves: 4
4 cups reduced fat (2%) milk
3 ounces white chocolate, finely chopped (about 6 tbsp)
¼ cup whipped cream
Sprinkles for serving (optional)
Heat milk in a medium saucepan over medium-high heat until it begins to steam. Add white chocolate and whisk well until chocolate is melted and mixture is frothy. Ladle into large mugs and top with whipped cream and sprinkles, if using. Serve immediately.
Nutrition Info Per Serving (includes whipped cream)
Calories: 249; Total Fat: 13 grams; Saturated Fat: 9 grams; Total Carbohydrate: 19 grams; 
Sugars: 17 grams; Protein: 14 grams; Sodium: 143 milligrams; Cholesterol: 30 milligrams; Fiber: 0 grams