Chicken Sausage and Peppers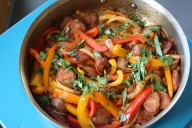 Chicken Sausage and Peppers
This lightened up version of the Italian classic is quick cooking and crowd pleasing. Lower fat chicken sausage has all the flavor of regular pork sausage, only it's higher in protein. Serve on rolls or over rice.
Serves: 4
1 tablespoon olive oil
1 pound chicken sausage, sliced
1 clove garlic, finely chopped
1 red onion, sliced
2 bell peppers, cut into strips
2 teaspoons Worcestershire sauce
1 tablespoon tomato paste
¼ cup chicken stock or water
1 teaspoon fresh thyme
¼ cup basil, chopped
Kosher salt and black pepper
Heat oil in a large skillet, add sausage, garlic, onions and peppers; season with salt and pepper and cook for 5 minutes over medium high heat. Add Worcestershire, tomato paste, stock and thyme; continue to cook for an additional 5 minutes or until sausage is heated through and vegetables are tender.  Garnish with fresh basil and serve.
Nutrition Information Per Serving
Calories: 168
Total Fat: 10 grams
Saturated Fat: 3 grams
Carbohydrate: 11 grams
Fiber: 3 grams
Protein: 12 grams
Sodium: 416 milligrams
Cholesterol: 55 milligrams