THE Green Sauce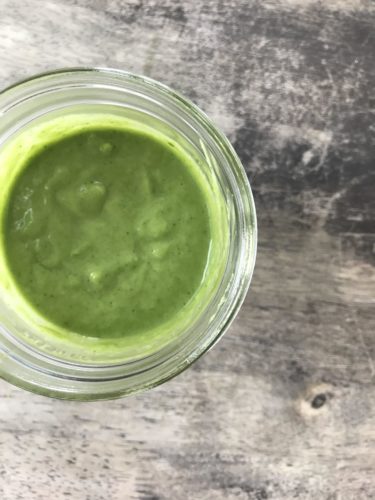 Meet Green Sauce. A personal obsession. It's a salad dressing, dipping sauce, sandwich spread, or medium with which you smother anything and immediately like it more. Inspired by a local Venezuelan restaurant in Norwalk, CT. I had to come up with a similar recipe as I can't make it there as often as I would like (ehem, every day) …..and don't worry, it's super easy to make.
Shortly after tasting it, you'll be putting it on EVERYTHING. You're welcome.
Green Sauce
Makes about 2 cups
1 avocado
Juice of 2 limes
2 bunches fresh cilantro (leaves and stems)
1 jalapeno pepper
2 tablespoons white vinegar
1 tablespoon honey
1 teaspoon kosher salt
¼ white onion
1 cup water
Combine ingredients in a blender and blend until smooth. Taste for seasoning and adjust as needed. If mixture appears too thick, add a little more water.
Nutrition Info Per (1/4 cup); 46 cals, 3g fat, sodium 147mg, carbs 6g, fiber 2g, sugar 3g, protein: 1g