The Ultimate Broccoli Salad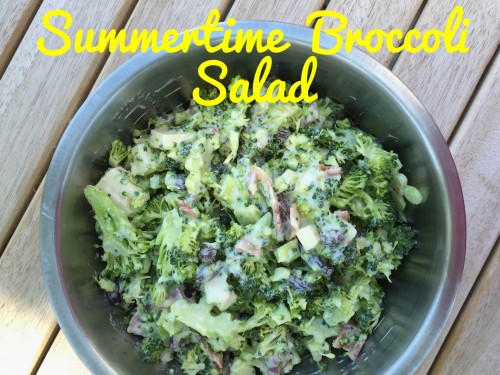 June is National Dairy Month and Chobani is helping me celebrate! Getting in the recommended 3 servings of dairy per day may seem tricky so here are 5 delicious ways to help your family get more important nutrients including calcium, potassium, protein and vitamin D.


1) Dinner Comeback
Remember this? Have you strayed? Bring back that ice-cold glass of milk with dinner each night. Each 8-ounce glass is 30% of your daily calcium requirement.

2) Cheese Please
Technically it's 1.5 ounces but many folks aren't sure what a serving of cheese looks like! As a visual guide, it's about the size of a 9-volt battery or about ¼ of your smart phone.

3) Summer Snacking
For camp or a lazy day in the back yard, have the kids munch on yogurt for a healthy and satisfying mid afternoon snack. Try out the fun flavors of Chobani Kids with 25% less sugar than other leading children's' yogurts.

4) Give Cottage Cheese A Whirl
Add cottage to the blender in your next smoothie – it will boost the protein and make it extra creamy.
5) Healthy Swaps
Make plain yogurt part of your everyday recipes. Swap in yogurt for mayo and sour cream in sauces, dips and dressings. Chobani plain Greek yogurt is made with natural, non-GMO ingredients and has double the protein of regular yogurt.  Extra protein means your go-to recipes super satisfying, like this recipe for crowd-pleasing Summertime Broccoli Salad.


Summertime Broccoli Salad
A tangy yogurt based dressing and some other nutritious ingredients means this salad packs in 10 % of your daily dose of calcium per serving. You can make this salad in advance; it actually tastes better once the flavors have a chance to mingle.

Serves: 8

1 container Chobani Nonfat Plain Greek Yogurt
1 tablespoon extra-virgin olive oil
1 tablespoon honey
½ teaspoon kosher salt
½ cup raisins
2 ounces sharp cheddar cheese, finely diced
3 slices cooked bacon, finely chopped
4 cups finely chopped broccoli

In a large bowl whisk yogurt, olive oil, honey and salt. Add raisins, cheese, bacon and broccoli and toss well. Serve immediately or store in the refrigerator for up to 3 days.

Nutrition Per Serving: Calories: 121; Total Fat: 6g; Saturated Fat: 2g; Cholesterol: 12mg; Sodium: 171mg; Carbohydrate: 13g; Fiber: 2g; Sugars: 3g; Protein: 6g