Slow Cooker Chicken Cacciatore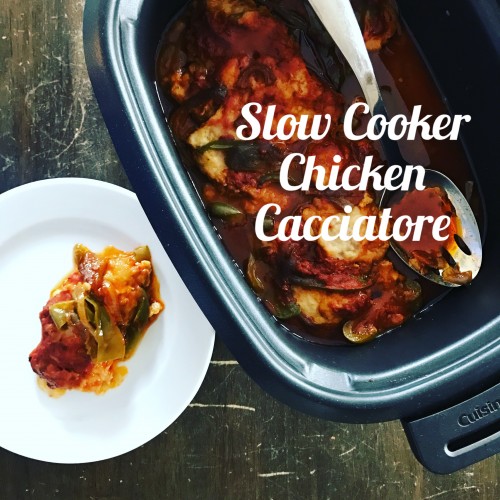 I'm proud to say this recipe has been approved by family, friends and kiddos alike. An easy, healthy and tasty chicken dinner where the slow cooker does all the work! Serve with pasta, polenta, potatoes or some crusty whole grain bread.
Slow Cooker Chicken Cacciatore
Serves 6
½ cup all purpose flour
½ teaspoon kosher salt
1 large package boneless skinless chicken thighs (about 1.5 pounds)
2 teaspoons olive oil
½  cup marinara sauce
½ cup chicken stock
½  red onion, sliced
1 clove galirc, thinly iced

1 green or red bell pepper, sliced
Fresh basil
Red pepper flakes and Parmesan cheese for serving (optional)
Place flour and salt in a large resealable back. Add chicken and toss to coat. Heat oil in a skillet or slow cooker with a browning function. Shake excess flour from chicken and brown on both sides (it takes about 2 to 3 minutes per side). Add marinara, chicken broth, onion garlic, and pepper.  Cover and cook on LOW for 8 hours or HIGH for 4 hours. Allow to cool for 10 minutes and taste for seasoning; add additional salt if needed and top with fresh basil.  Serve with red pepper flakes and Parmesan cheese, if desired. 

Calories: 183; Total Fat: 6  grams; Saturated Fat: 1 gram; Total Carbohydrate: 8 grams
Sugars: 2 grams; Protein:  23grams; Sodium: 325 milligrams; Cholesterol: 99 milligrams
Fiber: 1 gram