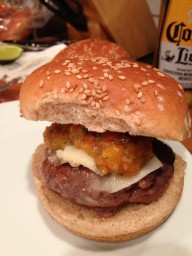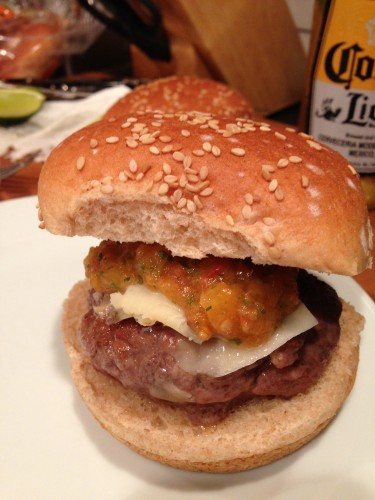 With some delicious inspiration from my garden and Sartori Cheese, I whipped up the best tasting burger I've had in a long time!
Asiago-Bruschetta Burgers
Serves 4
Ingredients:
1 pound ground beef (90% lean)
3 large tomatoes, quartered
½ glove garlic
2 tablespoons chopped red onion
½ cup fresh basil leaves
1 teaspoon balsamic vinegar
1 tablespoon extra-virgin olive oil
4, 1-ounce slices Asiago cheese (Sartori Rosemary & Olive Oil Asiago recommended)
4 whole-wheat rolls
Kosher salt and Freshly grated black pepper
Directions:
Form the meat into 4 burgers. Season both sides generously with salt and pepper. Heat grill or grill pan to medium-high and cook for 4 to 5 minutes per side, or until desired doneness.
For the bruschetta, place tomato, garlic, onion, basil, vinegar and oil in a food processor. Season with ½ teaspoon of salt and pepper to taste; Pulse until combined. If possible, allow mixture to sit for 30 minutes for flavors to marry.
Serve burgers on whole grain rolls, topped with cheese and bruschetta.
Nutrition Info Per Serving (1 burger with cheese, topped with 2 tablespoons of bruschetta): Calories: 399; Total Fat: 19 grams; Protein: 31 grams; Carbohydrate: 27 grams; Fiber: 4 grams; Sodium: 521 milligrams