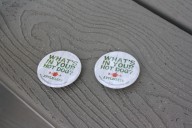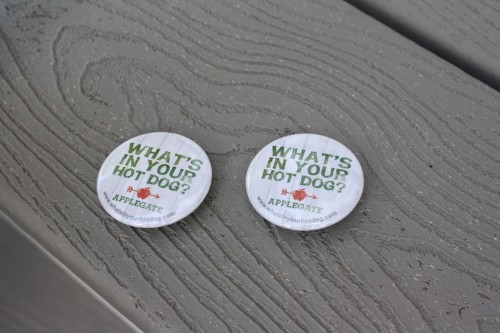 Do dietitians feed their family and friends hot dogs? Find out – plus, get an amazing recipe for a quick and fiery relish.
As a registered dietitian and mom of 2, people often judge my suspected food choices… "well I'm sure Dana doesn't feed her kids blah, blah, blah" and more often than not, they're wrong. Not because I feed my kids junk – but because I've find the healthiest way to do it.
Overall, our family diet is simple, clean, and from whole foods. And yes, it's possible to eat this way all summer long.
A very controversial topic for summer foods is hot dogs.  I am proud to be on the advisory board for Applegate and what better time to share these clean, simple and mommy-approved dogs with my (amazingly wonderful) neighbors. So for our annual block party, turned "wienervention" the menu featured Applegate Organic Beef Hot Dogs and a sweet and spicy relish to pile on top.
Jalapeno Pickle Relish
I love to make refrigerator pickles. A few tweaks to my standby recipe and viola – a fresh and super spicy relish – my new favorite condiment for hot dogs.
½ cup apple cider vinegar
½ cup granulated sugar

1 cup water
2 teaspoons kosher salt
1 cup each thinly sliced cucumber, carrot, onion and jalapeno pepper

2 teaspoons honey
Juice and zest of ½ a lemon
Hot sauce (optional) *I recommend Cholula brand
In a small saucepan, combine vinegar, sugar, water and salt. Bring to a boil and allow sugar to dissolve.  Stir in vegetables; turn off heat and allow to sit on the stove for 10 minutes. Transfer to a glass jar and place in the refrigerator to cool Once cool, drain and place pickled veggies in a food processor. Add honey, lemon juice, lemon zest and hot sauce, if using. Pulse until well chopped.