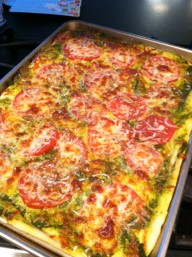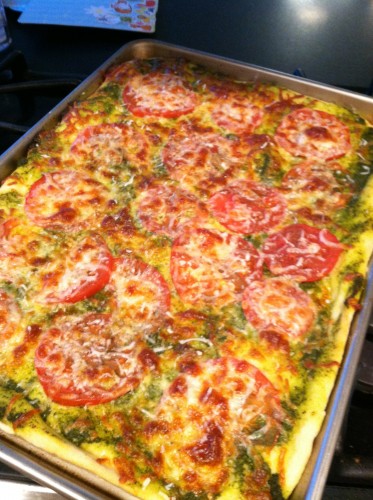 Every Friday night I make homemade pizza night for the family. You'd think we'd be sick of it by now but not even close. It's fun for the kids, great for company, and healthier than take out! Every week it's a new flavor combo – here are 10 of my favorites.
10) Portabello mushrooms, leftover roasted cauliflower & broccoli – lots & lots of provolone
9) Zucchini, butternut squash, thinly sliced fennel …yes, it's as good as it sounds
8) Chicken sausage and roasted carrots pureed in the sauce (not sneaky, just resourceful)
7) Thinly sliced potato, bacon, chives … if it's wrong, I don't want to be right
6) Grilled chicken, roasted red pepper, fresh mozzarella (ricotta cheese is awesome too)
5) Arugula pesto, fresh tomato and the undisputed king of cheese (Parmigiano Reggiano)
4) Eggplant and cherry peppers for the grown ups – tomato and basil for the kiddos
3) Broccoli, shallots, local bacon … yum!
2) Summer squash and basil right from the garden
1) Roasted butternut squash and sautéed kale