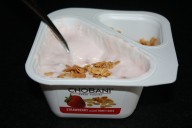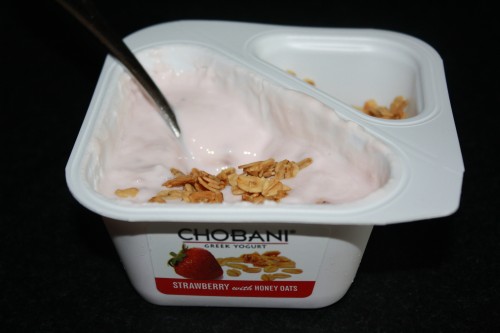 I recently got to try some of Chobani's latest creations. BIG fan of these Greek yogurt goodies.
BITE
These 100-calorie cups are as yummy as they are cute. LOVE the flavor combos too! Fig and Orange Zest was super fun, but Raspberry Chocolate Chip was my absolute favorite. Very happy to see a 100-calorie yogurt without artificial sweeteners!
Favorite Use: Post workout snack
FLIP
These square-shaped cups enclose yogurt side-by side with a tiny scoop of crunchy goodness. The coconut yogurt in the Almond Coco Loco is insanely delish and the Strawberry Sunrise is good by itself for a quick breakfast or whirled into a smoothie – granola and all. Props to the Chobani folks for the use of ingredients like wildflower honey and fruit and veggie concentrates for color.
Favorite Use: Late night snack
CHAMPS
Champion Tubes were a bit hit with my little ones. Seventy calories, 5 grams of protein, and 15-percent of the vitamin D for the day – a thumbs up from mommy.
Favorite Use: FROZEN – yummy yogurt pops right out of the package