Almond Coconut Instant Pot Yogurt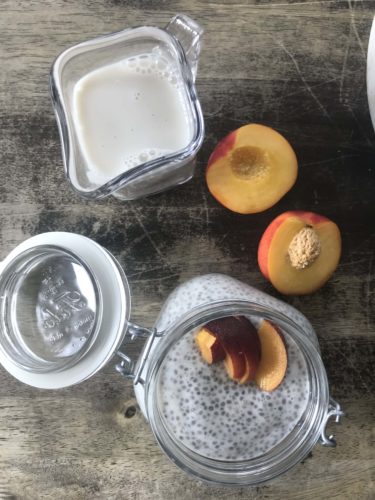 Infusing yummy almond coconut milk with the goodness of tummy pleasing probiotics is easier than you think thanks to the Instant Pot. Making dairy free yogurt is a game of trial and error. Most recipes out there rely on lots of gelatin or other thickeners to get the right yogurt-y texture. Instead I used chia seeds to help the mixture hold AND to boost the nutrients. Thanks to these tiny seeds, this superfood concoction has a whopping 6 grams of fiber, but only 107 calories per serving.
3 cups Almond Breeze Almond Coconut Milk Blend
2 tbsp plain non-dairy yogurt (or 1 probiotic capsule)
1 tsp vanilla extract
1/2 cup chia seeds
1.    Pour almond coconut milk into the inner pot. Cover and lock the lid in place with the vent sealed. Set to Yogurt function and adjust to "boil."When the heating is done, the machine will beep.
2.    Carefully remove the inner pot and set in a bowl of ice water until the mixture cools to a temperature below 115 degrees F (use a thermometer to check the temp).
3.    Once cooled, whisk in yogurt or contents of capsule (just the powder, break it open!). Place the inner pot back in the base. Cover and lock the lid again, this time leaving the vent open.
4.    Set to Yogurt function for 10 hours. When the time is up, carefully remove lid and transfer yogurt to a container, whisk in vanilla and chia seeds and place in the refrigerator to chill for at least 8 hours.
5. Serve drizzled with honey and topped with fresh fruit.
Nutrition per 3/4 cup serving. Calories: 107; Total Fat: 7 grams; Saturated Fat: 1 gram; Total Carbohydrate: 9 grams; Sugars: 1 grams; Protein: 4 grams; Sodium: 91 milligrams; Cholesterol: 0 milligrams; Fiber: 6 grams