Disclosure: I received a free Kyvol air fryer to test. Opinions in this post are my own.
I am always asked "Which Air Fryer Should I Buy?" and I after using dozens of machines, I've learned there really is a lot of variation. I had never heard of Kyvol before but was excited to give it a try. This machine has a lot to offer – it is lightweight, easy to use, affordable and cooks really well. There's no escaping a bulky air fryer – that powerful fan needs room to groove, but the sleek styling of this model makes it feel less cumbersome. There is a window in the front and I like that I can see the food while it's cooking – like the PASTA CHIPS in this Instagram Reel. This is an unusual feature for most standalone air fryers – I have a duo toasted oven model but find that is best for reheating as opposed to from scratch cooking. The Kyvol has a uniquely styled inner "crisper plate" instead of a more traditional basket. It was easy to take in and out and equally easy to clean.
Best Features
I LOVED the digital touch screen. I am not a fan of cooking presets but did try the French Fry setting and it worked well. For folks new to air fryer cooking, the presets can help take the guess work out of guessing cooking temps – even when following recipes. Every machine is a little different when it comes to temperature control.
This unit is shockingly quiet! So quiet, I questioned how well it could be working. Again, thanks to the fans these machines can get loud. Not the case with the Kyvol – a quiet hum was the only sound it made.
What I've Made So Far!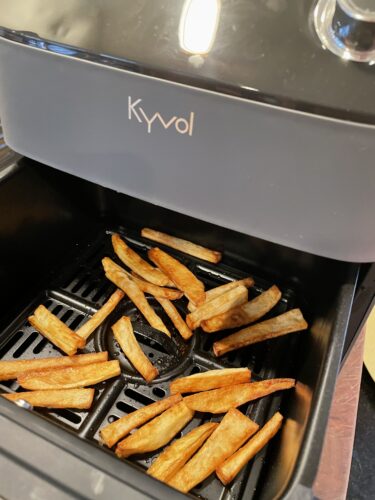 A true measure of any air fryer are of course, French Fries – and these were just as good as any I have made – crispy, golden and oh so fast! I made 2 pieces of salmon without a smoky mess or smell of fish infiltrating my kitchen (score!), and the aforementioned pasta chips were definitely a highlight. My 11 year old daughter also found this machine easy to use – trying her hand at these Air Fryer Mozzarella Sticks.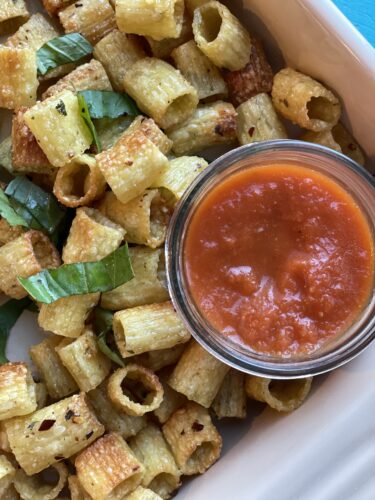 Additional Info
Find on Amazon >> Price: 129.99 – with a $30.00 clickable coupon Valid till Aug 31
Overall Rating
I give this machine a solid 9/10. Check it out on Amazon through the end of August and get $30.00 off.
I look forward to using it more.
Have you tried the Kyvol Air Fryer?