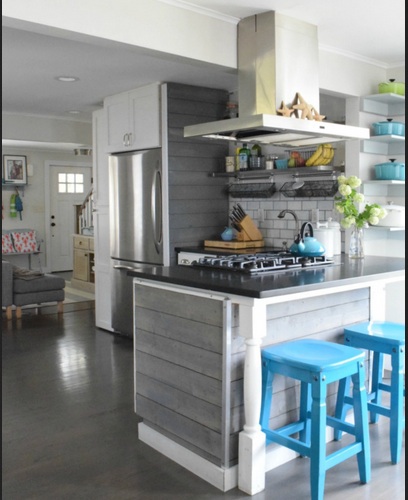 Back in April 2012 I spent over $3000 on a fridge. My fancy GE Profile bottom drawer freezer showed up in all its glory – actually no, with a dent in the door but I was willing to overlook it. A new door was installed and the terror really began. After 3 service calls, a new compressor (which I'm told are supposed to last for a decade, minimum) and a new electrical circuit plate of some sort, I came to the conclusion that this thing was a lemon and refused to spend another penny. How long did this take? About 5 years – that's $600 of fridge a year (NOT including parts and service) and in my book – that's unacceptable.
The destiny of fridge/freezer is basic. Keep. Things. Cold (or frozen, in the proper area). I have a dinosaur of a fridge in my garage that's at least 20 years old. She's not perfect but she's still doing her job – she's a GE Profile by the way.
I went shopping for a new fridge and was horrified. So much nonsense, I just want cold. To the untrained (and less jaded) eye touch screens, light up panels, hi-lo doors and LED landing strip lights may look like appealing features but I see them for what they really are – more things to break. And (wait for it) they're even more expensive now – $4K was a fair average.
"They don't make 'em like they used to" says the salesman. Well, why the hell not? Why should I spend 4k on something I have absolutely no confidence in? Um, I won't.
 
So where did I end up? Which fridge did I buy? Like most folks that cook regularly (and I do it more than most) you can only go so long without something to chill your food, so I had to chill out.  
Under a fair amount of internal protest, I bought a (very) basic LG model – for an all-in cost of just under $1200. It is perfect? No. Is it the esthetic I want in my kitchen? Not really. Is it keeping things cold? So far, so good. It has more storage capacity and wide shelving which works well for large trays – an unexpected bonus. I'm still feeling unsettled. Why is it so hard to find a reliable appliance? Still waiting for an acceptable answer.
Your reward for putting up with my rant is my favorite recipe that relies on the fridge to do the "cooking." A dose of chocolate is called for!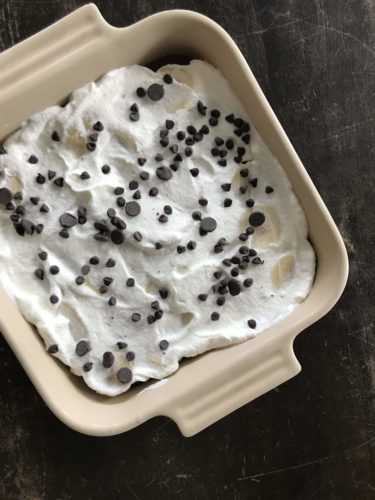 Dana's IceBox Cake
Serves: 6
1/3 cup whipping cream
2 teaspoons confectioners
Graham crackers (8 full sheets)
1 ½ cups chocolate pudding (homemade or store-bought is fine)
2 medium bananas
Mini chocolate chips (optional)
Combine cream and sugar in a bowl, using a stand mixer or hand mixer, whip until stiff peaks form; set aside. Arrange a layer of graham crackers in the bottom of an 8×8 square baking dish. Pour chocolate pudding over the graham crackers and gently spread to cover. Slice bananas and place a layer of bananas over the pudding. Top with an evenly spread layer of whipping cream and sprinkle with chocolate chips, if using. Cover with plastic wrap and place in the refrigerator for at least 2 hours. Serve chilled.  
Calories: 185; Total Fat: 7 grams; Saturated Fat: 4 grams; Total Carbohydrate: 28 grams
Sugars: 16 grams; Protein: 4 grams; Sodium:  95 milligrams; Cholesterol:  24 milligrams
; Fiber: 2 grams
kitchen photo credit: Brooke Christen (modified via Nesting with Grace)