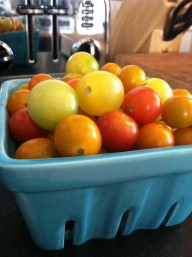 My garden is bursting with all kinds of tomatoes. What to do (and not do) with all of them?! What a lovely dilemma!
1) Make Tomato Jam – Serve with sharp cheddar and crusty bread.
2) Try the ugly ones. Sometimes the tastiest tomatoes are the bizarre looking ones. See my Heirloom Tomato Taste Test
3) Experiment! You know tomatoes taste fabulous with basil, but they're just as delish with mango, pineapple, and watermelon! (see Tomato-Pineapple Salsa pic below)
4) Serve Solo – put out a big bowl of cherry tomatoes at dinner (cut in half for the kiddies).
5) Please DO NOT REFRIGERATE! Leave those "maters" at room temp where they taste best.