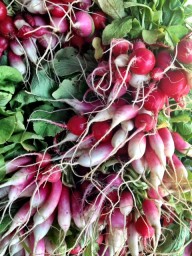 Radishes may be coming to an end in their season, but they are still up for picking and grabbing at local farmers markets! Smaller in size than their winter siblings, these beauties are a versatile root vegetable and full of vitamin c, antioxidants, and help to aid with digestive health.
Radishes are a great addition to spring and summer dishes, salads, sides and as toppings to the ever favorite burger and hotdog. Steamed, sautéed, boiled, etc., the radish is most appreciated in its raw form for consumption. A great way to enjoy aside from a salad topper or as crudité is pickled for a topping on sandwiches and burgers, or sliced and shredded for a slaw in tacos and chop salads. Radishes can be a delicious star in a side dish when roasted with garlic and olive oil, or baked into a tart with flavorful herbs and cheese.
No matter the flavor, method or combination of ingredients to showcase radishes , be sure to use them for consumption within 1 week of purchase. To prepare for cooking and eating, scrub the radish of grit and dirt, and trim both ends (the root and the leaves).  Get them while you can! Once they finish in June, they won't be back until October.
Contributed by Devan Alusik of Devours by Devan Victoria