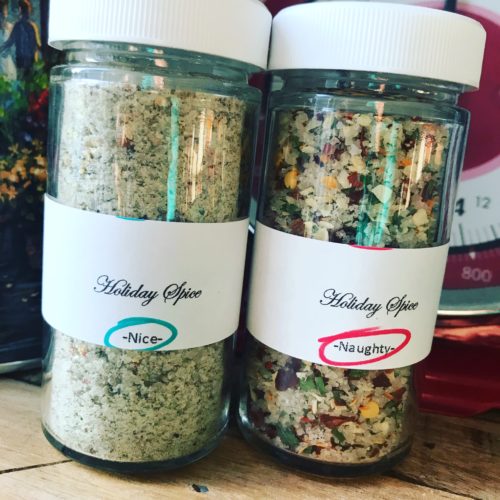 I love making couture spice blends for stocking stuffers and hostess gifts. Anything goes when it comes to the flavors so adjust the ingredients as you see fit. You can find simple and affordable spice jars on Amazon.
Holiday Spice – NAUGHTY
Sprinkle this spice blend on pasta, pizza, fish or mix with olive oil and salad dressing for a herbaceous, spicy kick!
1 part red pepper flakes
1 part kosher salt or Basil Salt
1 part garlic powder
1/2 part dried parsley
Holiday Spice – NICE
This is a perfect everyday blend to make your daily recipes a little special. This mix has become my go-to for marinades, roasted chicken, soups, stews and roasted vegetables.
2 parts Rosemary Citrus Sea Salt
1 part garlic powder
1 part black pepper