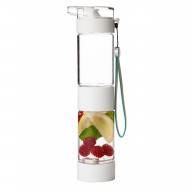 Dana White Nutrition has partnered up with Uncommon Goods to highlight some healthy and sustainable gift ideas. This Brooklyn-based company prides themselves on featuring tons of products made in the USA.  Plus about 1/3 of their collection incorporates recycled and or upcycled materials. A big thanks to Uncommon Goods for providing me with some goodies to play with — here are just a few of my favorite things.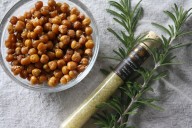 Flavors of America Salt
A collection of US purveyed salts featuring flavors like Maine Apple Wood Smoked and California Vintage Merlot.  The Hawaiian Citrus was a perfect finishing touch on this recipe for Crunchy Rosemary Chickpeas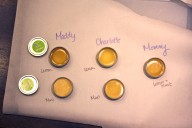 DIY Lip Balm Kit
I am a huge fan of homemade beauty products. My girls helped make stocking stuffers for the women in our family. Click here to see more gift ideas for women.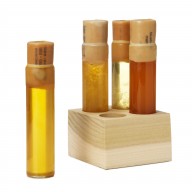 Manhattan Rooftop Honey Flight
I am amazed by the versatility of this natural sweetener and love that these varieties are cultivated in nearby New York City.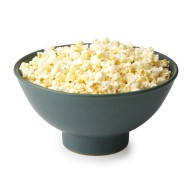 The Popcorn Bowl with Kernel Sifter
We make a lot of popcorn in my house – a healthy snack for parents and kids alike. This bowl prevents the little ones from gobbling (the unavoidable) unpopped pieces. To make homemade popcorn place ¼ of kernels in a brown paper lunch bag and fold over the top twice to close. Microwave on high for approximately 2 minutes. Pour into a large bowl and top with melted butter and season with salt.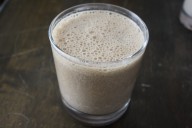 Cold Brew Coffee Maker
Amazing coffee and zero electricity required. This is the perfect gift for my hubby who drinks iced coffee 365 days a year. Don't waste the leftovers – make my Coffee Cure Smoothie.
Click here to find more gifts for men.
Water Bottles 
Is drinking more water one of your new year's resolutions? There are several stylish bottles you can fill with water and flavorings to help inspire you to drink more. Some of my favorite seasonal combinations are mint & cucumber, clementine & grapefruit, and kiwi.