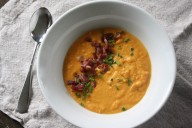 I admit it — I am a bacon fanatic! Instead of gobbling down slice after slice, I make the most of the smoky flavor by adding it to my favorite fall and winter recipes. For best bacon-y results, use these tips.
Prepare bacon in the microwave (on a plate lined with paper towel) or roast in the oven on a broiling pan or wire rack at 400-degrees F.
Cuts of pork (including bacon) contain protein, plus vitamins and minerals like niacin, thiamin, B12, iron, and selenium.
Start with bacon! Saute a few slices and use the renderings to infuse flavor throughout soups and sauces. The recipe below is an fabulous example.
Sweet Potato & Bacon Soup
I serve on the advisory board for Applegate and I'm very excited about the launch of Good Morning Bacon. It's made from a leaner cut of pork so there's less fat – but don't worry  – there's no skimping on flavor. The only time consuming part of this recipe is baking the sweet potatoes. To save time, prepare them the night before, use leftovers from a holiday meal, or cook in the microwave for 6 to 8 minutes.

Makes 2 quarts
4 slices bacon, roughly chopped
1/2 yellow onion, chopped
1/2 teaspoon each kosher salt and black pepper
3 medium baked sweet potatoes, skin removed (about 3 cups)
1 quart chicken or turkey stock
1/4 cup heavy cream
Chopped chives for garnish
Cook bacon in a large soup pot until crisp. Transfer to a paper towel to drain. Add onions to pot, season with salt and pepper, and sauté over medium heat for 4 to 5 minutes. Add sweet potato and stock and stir to combine; bring to a simmer. Once bubbling, stir in cream and puree soup using an immersion blender. Serve topped with reserved bacon and chopped chives.
Nutrition Info (per 1 cup serving); Calories: 119; Total Fat: 4 grams; Saturated Fat: 2 grams; Total Carbohydrate: 17 grams; 
Sugars: 6 grams; Protein: 4 grams; Sodium: 305 milligrams; Cholesterol: 28 milligrams; 
Fiber: 3  grams