Pumpkin Chocolate Chip Muffins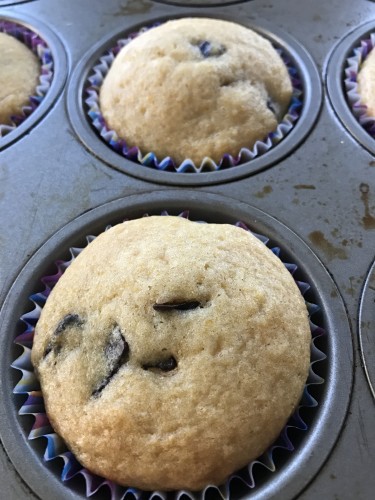 These versatile pumpkin muffins work for breakfast, school lunches, bake sales, and even dessert. They are probably one of the most popular recipes I've ever made – everyone loves them.

Makes 18 muffins
2 cups all-purpose flour
1 ½ teaspoons baking powder
½ teaspoon baking soda
½ teaspoon ground cinnamon
1 teaspoon kosher salt
1 cup granulated sugar
1 large egg, beaten
½ cup canola oil
½ cup applesauce
1 cup low fat milk
1 teaspoon vanilla extract
1 cup canned pumpkin puree
1 cup chocolate chips, divided
Preheat oven to 375°F. Line a muffin pan with paper liners and set aside. In a large bowl, combine flour, baking powder, baking soda, cinnamon, and salt; whisk well to combine. In a separate bowl whisk together sugar, egg, canola oil, applesauce, milk, vanilla, and pumpkin puree. Add pumpkin mixture to dry ingredients and mix until just combined; fold in ¾ cup chocolate chips. Fill each muffin cup with ¼ cup of batter. Bake for 14 to 16 minutes or until a toothpick comes out clean from the center. Top with a few additional chocolate chips per muffin, then allow to cool.
Calories: 209; Total Fat: 9 grams; Saturated Fat: 2 grams; Total Carbohydrate: 30 grams
Sugars: 19 grams; Protein: 3 grams; Sodium: 186 milligrams; Cholesterol: 11 milligrams
Fiber: 1.5 grams