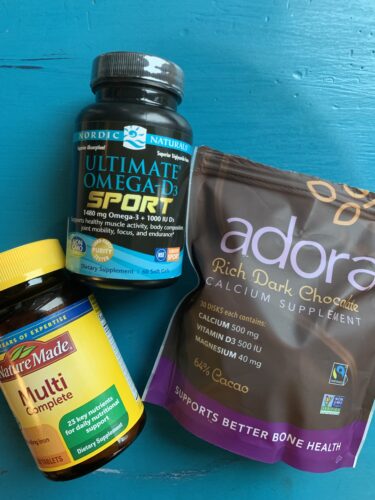 Safe, reliable and worthwhile dietary supplements. This post includes affiliate links.
FOOD FIRST! Supplements are never a replacement for food but may help fill gaps in your diet. Here are a few stellar examples of safe, properly dosed supplements to help you meet your nutrient needs. If you suspect a nutrient deficiency, check with a registered dietitian and request blood work from your primary care doc.
A good basic multivitamin is all you need but can be incredibly hard to find. This multi from Nature Made has a nice balance of nutrients and no mega-doses of any vitamins or minerals – which is exactly what you want!
How to take this multivitamin: Once a day with food.
Similar to the Nature Made, I like this One-A-Day product for men. It checks all the right nutrient boxes.
How to take this multivitamin: Once a day with food.
Chewable and chocolate – 2 reasons you will remember to take this dose of calcium and vitamin D. For optimal absorption, this form of calcium needs to be taken with food. Since you can only absorb 500mg of calcium at a time, you need to take one per day (depending on your needs) or split the doses and take at two separate times each day.
How to take this calcium supplement: 1 or 2 a day with food – if 2, take separately!
Nordic Naturals Sport (Omega-3 + Vit D)
Those OH-SO important omega-3 fats from fish oil needs to come from a trusted source. Nordic Naturals is the best I have seen, plus this one is safe for athletes with NSF certification.
How to take this fish oil: One or 2 pills per day – ALWAYS with food!
Whey protein is optimally absorbed and I just love the way this tastes. Blend into a smoothie with milk and banana to add the carbs you also need to use this protein post workout (peanut butter also a highly recommended addition).
How to take this protein powder: As needed, preferably post workout
CORE Power Ready To Drink Shakes
A perfect ready-to-drink shake for workout recovery on the go! Lactose free, 26 grams of protein and THEY. TASTE. AMAZING!
How to take this protein drink: As needed, preferably post workout