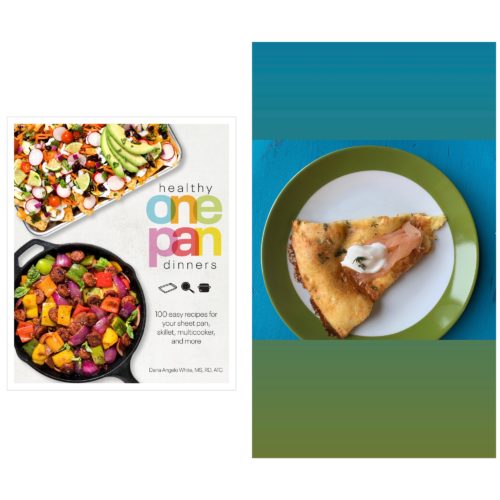 Eggs for breakfast is commonplace for many and for me, it's an everyday occurrence. While eggs are ideal for a post-workout breakfast, they can also take center stage at dinner. In this sponsored post I celebrate my love for eggs as well as highlight one-pan cooking equipment to make easy and scrumptious meals from my newest cookbook Healthy One Pan Dinners.
My Ode to Eggs
Eggs are a naturally nutrient-rich choice providing a good or excellent source of eight essential nutrients, including choline plus the carotenoids lutein and zeaxanthin. Choline is an important nutrient for brain health, but more than 90% of Americans don't get enough and it's not found in high quantities in many foods. And although lutein has long been associated with eye health, research has discovered lutein may plan an important role in cognition as well.
Plus, eggs are an affordable source of high-quality protein. Nearly half the egg's protein (and almost all the nutrients!) are found in the egg yolk, so go ahead and enjoy the whole egg for all of the nutrition.
And you know I love eggs because they are versatile and convenient. They're great for breakfast, lunch, dinner, and snacks, and fit into just about any eating pattern.
One Pan (Egg) Dinners
I created Healthy One Pan Dinners to celebrate my love of easy weeknight meals. I compiled my favorite go-to dishes that my family loves. Now that the book is complete I am realizing just how many different meals and cooking methods feature eggs. Here is the hit list….
Sheet Pan
Like to meal prep or need to cook for a crowd? Sheet pan egg sandwiches piled high with veggies and cheese can be made en masse with whatever ingredients you have on hand. I make these for "brinner" at least once a month.
Baking Dish
Casseroles are the quintessential one-pan meal. One of my favorite summertime recipes is a casserole made with zucchini, yellow squash, and onions. Combine sliced veggies with a mixture of eggs, Greek yogurt, and cheese, then bake topped with a crispy panko crust.
Dutch Oven
A sturdy pot that's SO much more useful than it gets credit for! The ideal cooking vessel to travel from stovetop to oven, it's terrific for frittatas or a pot of chili with cornbread topping.
Cast Iron Skillet
It wasn't until I wrote this book that I truly appreciated how many egg dishes can be made in a cast-iron skillet. From quiche to fried rice to tomato-y shakshuka, cast iron can be used for sautéing, simmering, searing and baking. One of the most unexpectedly delightful egg recipes is also made in this trusty pan (drum roll please) – meet my baby!

Lemon-Thyme Dutch Baby with Smoked Salmon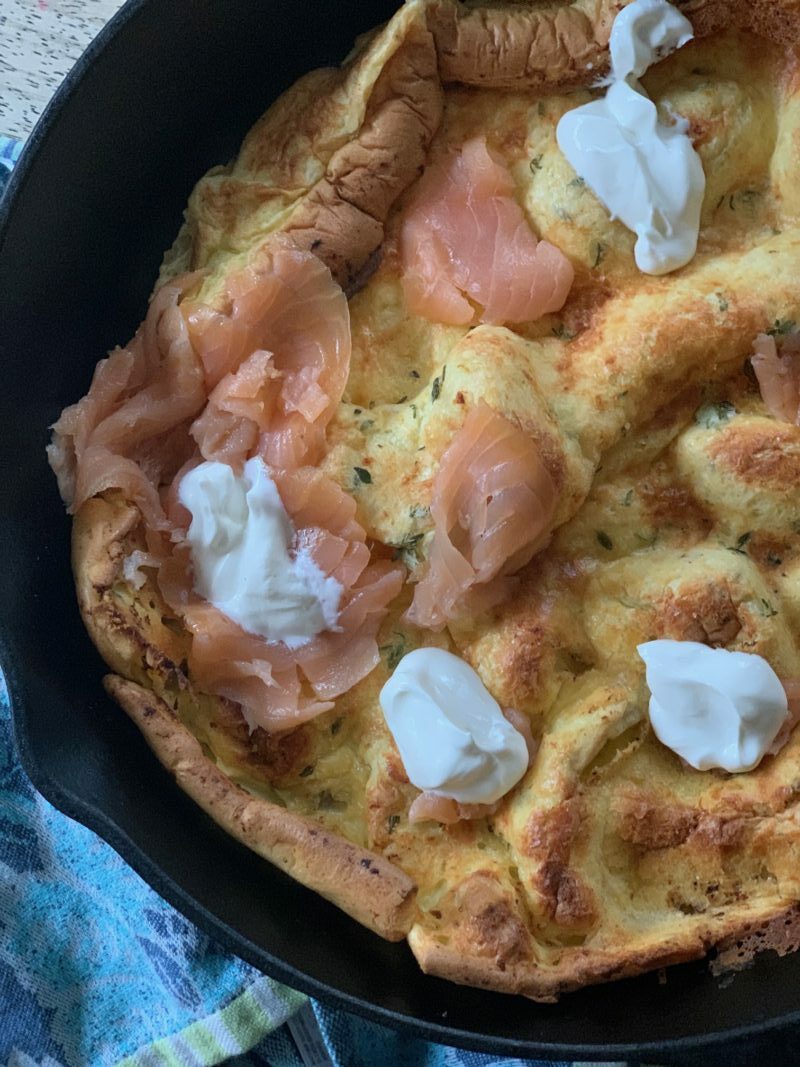 This savory pancake is a dinner (or brunch) winner. Watch it get puffed and golden in the oven and top with pieces of delicate smoked salmon for a protein boost – you can also #putaneggonit.
Ingredients
1

tbsp

chopped fresh thyme

1/2

lemon

zest from lemon

¼

cup

grated Parmesan cheese

4

Tbsp

unsalted butter

divided

4

larg

eggs

at room temperature

1/2

cup

whole milk

1/2

cup

flour

4

oz

smoked salmon

Salt and pepper
Instructions
Preheat the oven to 450*F. In a small bowl, combine the thyme, lemon zest, and Parmesan cheese. Mix and set aside.

Place 2 tablespoons butter in a cast-iron skillet. Put the skillet in the oven for 2 minutes or until butter is melted. Carefully remove the hot skillet from the oven, swirl to fully coat the bottom with melted butter, and set aside.

In a separate small saucepan, melt the remaining 2 tablespoons of butter. In a blender, combine the melted butter, eggs, milk, flour, salt, and pepper. Blend until smooth.

Pour the batter into the hot skillet. Sprinkle with the Parmesan mixture. Return to the oven and bake for 20 minutes or until puffed and golden.

Remove from the oven and top with smoked salmon before serving.
Notes
Excerpted from Healthy One Pan Dinners reprinted by permission of Alpha, a division of Penguin Random House LLC. Copyright © 2020 by Dana Angelo White