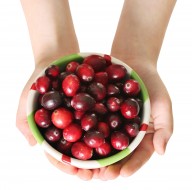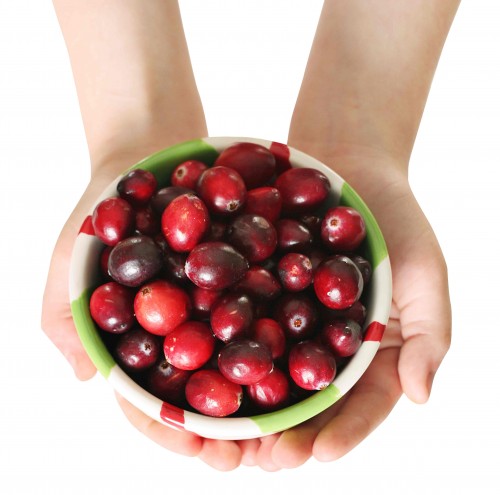 I just love the sweet-tart goodness of these vibrant berries!
Why they're fabulous: Filled with fiber, vitamin C, and other antioxidants – choose from fresh, frozen, or dried to get more of this true superfood.
Healthy recipes: Cranberry-Chia Jam (via Healthyeats.com) or a delectable Cranberry & Cilantro Quinoa Salad (recipe below)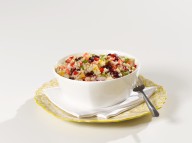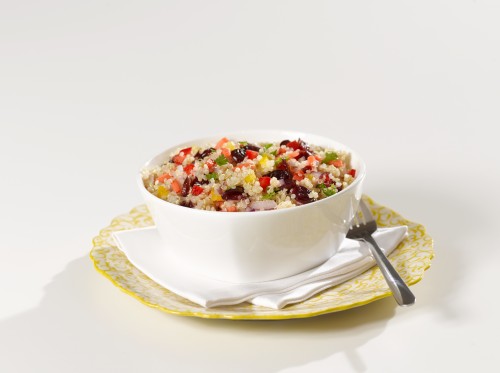 CRANBERRY & CILANTRO QUINOA SALAD
Yield: 8 servings
Ingredients
2 cups water Pinch of salt 1 cup quinoa, rinsed 1 cup dried cranberries 1⁄2 cup minced carrots 1⁄2 cup chopped red bell pepper 1⁄2 cup chopped yellow bell pepper 3 Tbsp. finely chopped red onion 3 Tbsp. minced fresh cilantro 3 Tbsp. fresh lime juice 1 Tbsp. vegetable oil 1⁄4 tsp. salt Pinch ground red pepper
Directions
1.    In a small sauce pan, bring water and pinch of salt to a boil over high heat; stir in quinoa, reduce heat and bring to a low simmer. Cover pot and cook until all liquid is absorbed (about 13 minutes).
2.    Remove from heat and transfer to a medium bowl. Cool to room temperature. Cover and refrigerate until ready to use.
3.    To the bowl of quinoa, stir in cranberries, carrots, red and yellow peppers, red onion and cilantro until mixed.
4.    In a small bowl, mix together lime juice, oil, salt and ground red pepper and pour over quinoa- cranberry mixture; toss to coat evenly. Cover and refrigerate at least 2 hours before serving. Does not have to be served cold.
Nutrition Information Per Serving: Calories 150, Calories from Fat 30, Saturated Fat 0g, Trans Fat 0g, Total Fat 3.5g, Cholesterol 0mg, Sodium 115mg, Total Carbohydrate 29g, Sugars 11g, Dietary Fiber 3g, Protein 3g, Vitamin A 40%, Vitamin C 45%, Calcium 2%, Iron 6%
Recipe and photos courtesy of the Cranberry Marketing Committee